This recipe for Rocky Road Bars is perfect for when you're craving something sweet, but don't need a huge pan of brownies. Made in an 8 inch square pan, the base layer is slightly cakey and not too rich, which makes it a nice contrast to the sweet conglomeration of chocolate, marshmallows and pecans on top. I liked the bars even more after they'd cooled and chilled, because t that point, they were sturdy enough to carry around or stack on a plate.
Here's a photo. I'm obsessed with the idea of making the base banana flavored.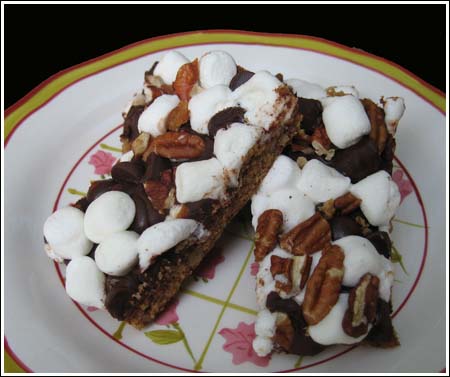 Rocky Road Bars
1/3 cup brown sugar, firmly packed
1 1/4 tablespoons softened butter
1 egg, beaten
1/2 tsp. vanilla
1/4 tsp. baking powder (double acting)
1/8 tsp. salt
1/4 cup flour (lightly spooned)
1 cup chopped, toasted pecans
1 cup small marshmallows
3/4 bittersweet chocolate chips
Preheat oven to 350 degree F. Line an 8 inch square pan with foil and spray it with cooking spray or line with foil and spray foil.
In medium bowl, beat together sugar and butter. Add egg and vanilla and beat until smooth. Add baking powder and salt and stir so that baking powder is well mixed, then gently stir in flour and 1/2 cup of the pecans.
Pour into pan and spread to edges….it will be thin. Bake for 13-15 minutes. If you smell burning, remove from oven (shouldn't happen – but if your oven runs hot, check at 12-13)
Meanwhile, toss together remaining pecans, marshmallows and chocolate chips.
After base has baked for 15 minutes, remove base from oven and while hot, quickly arrange marshmallow mixture over top. Return to oven for only 2 minutes. Remove from oven and let cool at room temperature for a few hours. When cool, cut into 8 bars.
For firmer, sturdier bars, chill them after you've cut them
Makes 8 bars