I was craving homemade peanut butter cookies today and made some of these. I'm the only one who likes peanut butter around here, so I scaled the recipe down to 10 cookies and put those measurements at the bottom for others who don't need 40 cookies. Normal Peanut butter-loving households will want to make the full batch. Just be careful because these guys are addictive. They come out of the oven puffy, soft and hot and firm up as they cool.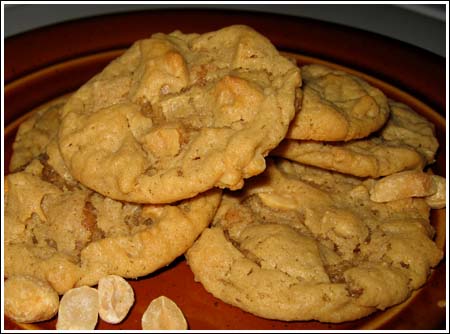 Flourless Peanut Butter Cookies
1 large egg
1 cup granulated sugar
1 teaspoon baking soda
1 cup creamy peanut butter
1/2 teaspoon Mexican vanilla
1/3 cup chopped peanuts, to taste
Preheat oven to 350 degrees F.
In a mixing bowl, beat together egg, sugar, baking soda and vanilla. I use an electric mixer for this, but you can do it with a whisk. Beat in the peanut butter and stir in the peanuts.
Drop by teaspoonfuls onto cookie sheet and bake for 10 minutes. Cookies will look puffy and soft when the come out of the oven, but they sink and firm up as they cool.
Makes about 40 cookies
Small Batch: Use about a tablespoon of beaten egg, 1/4 cup granulated sugar, 1/4 teaspoon baking soda, 1/4 cup peanut butter, a little dash of vanilla and a tablespoon of chopped peanuts.