This recipe fell in my lap yesterday. Literally. I opened the pack of Martha Stewart treat boxes, and out dropped the recipe for Double-Chocolate Brownies, which was printed on a little pink card.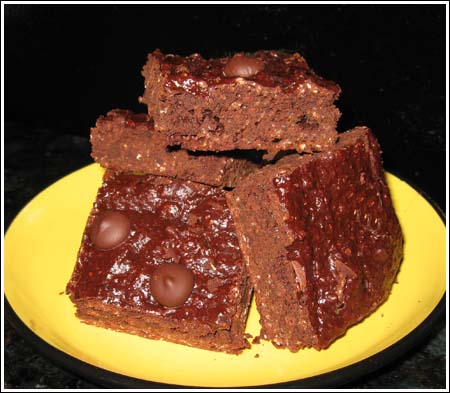 Not wanting to deal with anything other than the toffee I was packing, I threw the recipe card on the floor and got back to work. Flash forward to today when I'm cleaning up all the toffee-making fallout, where I find the recipe on the floor where I threw it.
I figured the brownie recipe, being packed in a treat bag kit and all, would be a generic sort of recipe found in all my cookbooks, but I took a look at it on the way to the trash can and changed my mind. It was a healthy brownie recipe.
Now packing a "healthy" type brownie recipe in a gift box kit was a bold move on Martha Stewart's people's part, so I figured this recipe must be pretty special. And with the interestingly wholesome ingredient list, I decided to try it right away.
The brownies are winners. They have a denser, sturdier texture than some other brownies and are just mealy enough to let you know they're healthy (I didn't ground my oats enough, so that explains that),. but the biggest wallop comes from the chocolate. These are so chocolaty! They really fit the "Body and Soul" category they're filed under because they are delicious enough to make you happy and healthy enough not to bring on guilt.
I followed the recipe as stated but subbed brown sugar for the turbinado. I don't keep oat flour around the house, so for that, I just ground up some oats in the food processor. And finally, the prune puree. I keep prune baby food on hand for occasions such as this so I had the perfect amount to put right in the recipe.
These are super! I am not so sure Fuzz will like them because the chocolate flavor is so intense. But hey, more for me. These are grown-up brownies.
Recipe on link.