Double Chocolate Oat Flour Brownies are adapted from a recipe that came with a package of Martha Stewart treat boxes. Sold at craft stores like Michael's, they were Martha Stewart branded, pastel-colored, fold-together treat boxes designed for baked goods.  They came in different shapes, including my personal favorite, the cookie tower.  So as I recall, I bought a pack of treat boxes and this little recipe was included.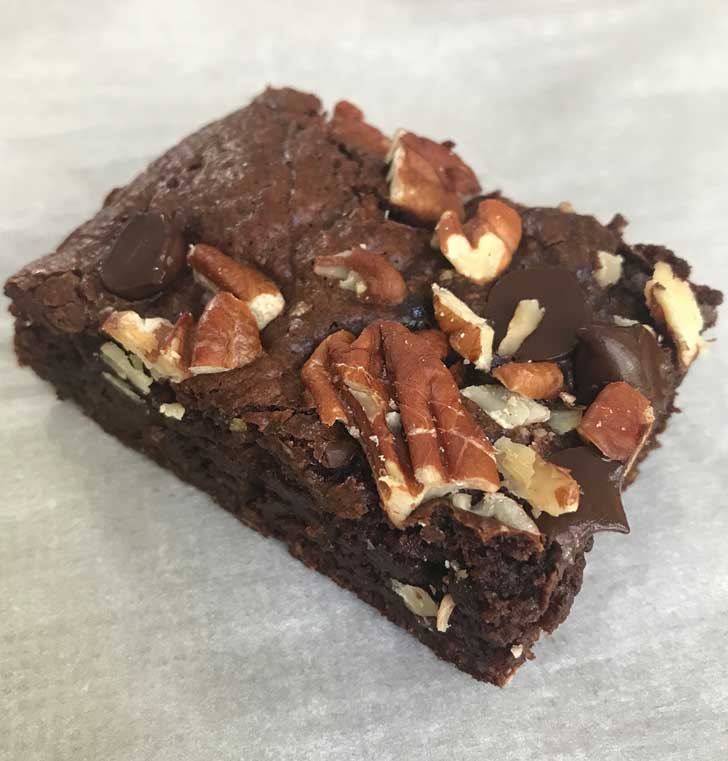 I remember being surprised that they'd include a "healthy" type recipe with treat boxes.  You'd think it would be a more mainstream kind of recipe, but instead it was for brownies made with ground oats, prune puree and turbinado sugar. And they were surprisingly good! But as usual I forgot about the recipe and didn't make Oat Flour Brownies again for many years.
Oat Flour Brownies Ingredient Notes
Prune Baby Food -- One of the things that motivated me to make these brownies today was I had an open container of prune baby food. It's a very useful ingredient for cutting fat, and works especially well in things like chocolate cake, chocolate muffins and bran muffins. It's similar to applesauce, but adds a little more flavor.
Oat Flour -- For the oat flour, I just ground oats in the food processor. The weight of the oats was about 90 grams. If you use store bought oat flour, you may want to just weigh out 90 grams. The store bought oat flour might be a little more finely ground so the volume may be slightly different.
Sugar -- The original Oat Flour Brownies call for turbinado sugar. I sometimes find it a little too gritty, so I used granulated. Coconut sugar would also be great, though it would change the flavor of the brownies and they'd probably lose some sweetness. Even with the 1 full cup of granulated sugar, these are not super sweet brownies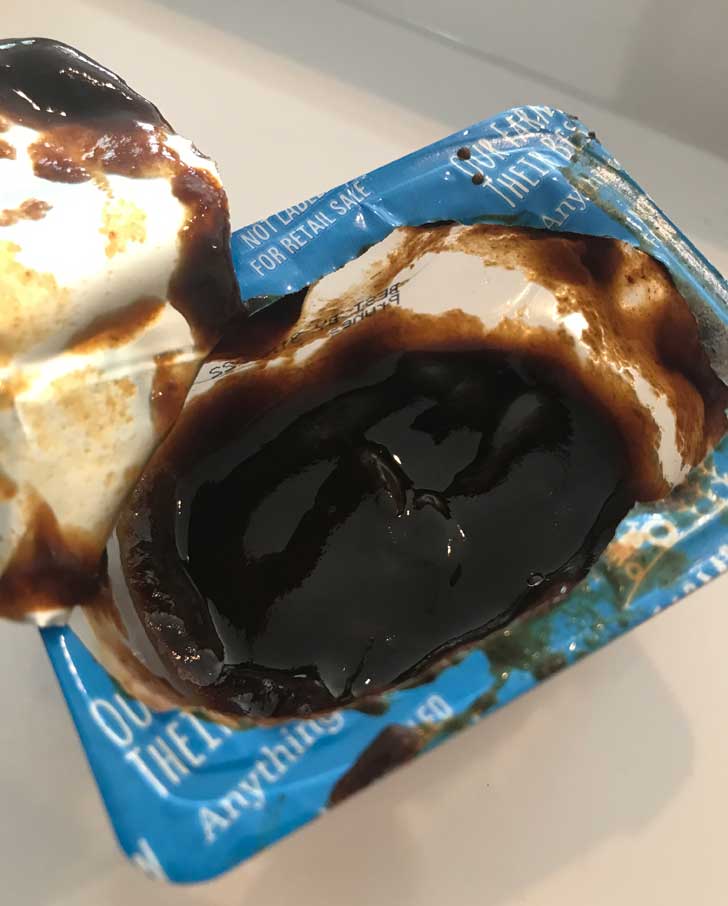 Recipe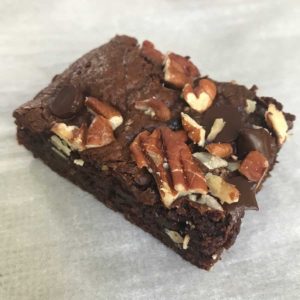 Double Chocolate Oat Flour Brownies
A recipe that came with some Martha Stewart treat boxes.
Ingredients 
4

ounces

semisweet or dark chocolate, chopped

(114 grams)

2

tablespoons

oil, canola or grapeseed

1

cup

sugar, regular granulated (or Turbinado)

(200 grams)

1

large

egg

1

large

egg white

¼

cup

prune puree (prune baby food)

2

teaspoons

vanilla extract

½

teaspoon

salt

¾

cup

oat flour

(90 grams)

⅓

cup

unsweetened cocoa powder

(30 grams)

⅓

cup

dark chocolate chips

optional

⅓

cup

chopped pecans

optional
Instructions 
Preheat the oven to 350 degrees F. Line an 8 inch pan with foil and grease bottom only.

Combine chocolate and oil in a 3 quart saucepan and place over low heat. Stir gently just to melt the chocolate. Pay close attention so the chocolate doesn't burn or boil.

Remove from heat; whisk in sugar, egg, egg white, prune puree, vanilla, and salt until smooth.

Stir in the cocoa powde until fully blended, then stir in the flour. Make sure the batter is not so warm as to melt the chocolate chips, then add about ⅓ cup of chocolate chips (optional, but good!)

Spread batter in prepared pan. Bake until top is firm and a toothpick inserted in center comes out with a few moist crumbs. For me this was between 30 and 35 minutes. Cool completely in pan. Using foil, lift brownies from pan. Cut into rectangles or squares.