I'm not really sure why I called these Brownie Peanut Butter Cookies when the original name is Peanut Butter Brownie Cookies, but this recipe is a classic, and a great way to make cookies from brownie mix.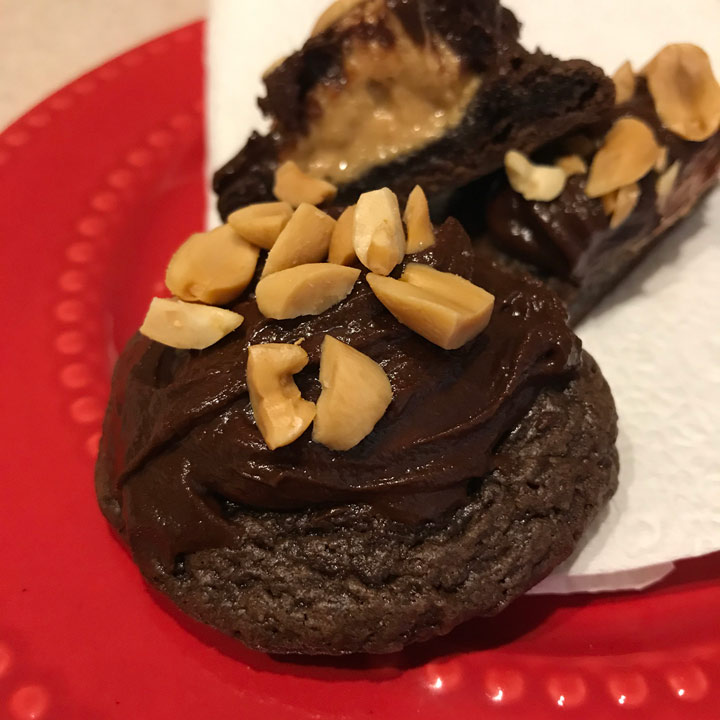 Brownie Peanut Butter Cookies are chewy chocolate cookies made with brownie mix.  They are topped with peanut butter and either chocolate frosting or chocolate ganache -- you decide.  The original recipe is an old Bake-Off finalist which seems to have stood the test of time, because even with the changing size of brownie mix it still works.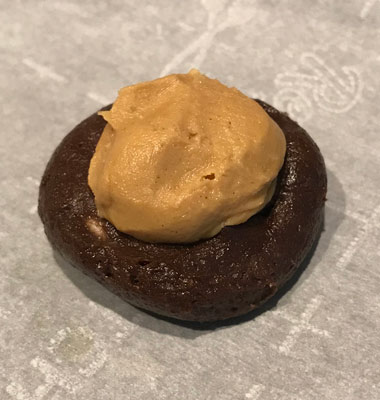 Since posting, I've made these cookies multiple times and have changed a few things. For instance, I recommend scooping the dough into 24 messy portions (because it's sticky!), chilling, and then shaping the blobs into neat rounds. Same with the peanut mixture. Before baking, the cookies will look like this.
You have some options when it comes to the topping. I like using a ganache, but the original Bake-Off version of the cookie calls for half a tub of ready-to-spread chocolate fudge frosting. If you go with the ganache, it's less expensive to use chocolate chips, but chopped chocolate flows a little better. You can also make things even easier and just use straight melted chocolate. I always seem to have Dove Dark squares in the house and they worked perfectly.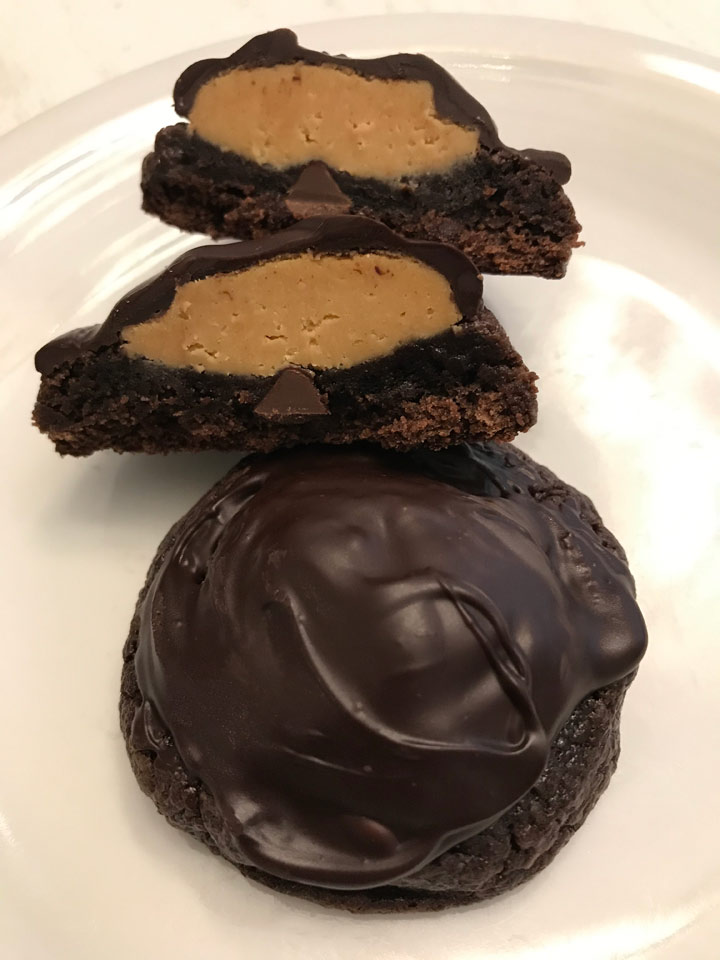 Recipe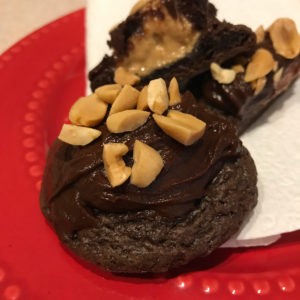 Brownie Peanut Butter Cookies
Chocolate cookies made with brownie mix and topped with peanut butter and chocolate.
Ingredients 
4

tablespoons

unsalted butter

softened

4

ounces

cream cheese

softened

1

large egg

room temperature

1

box chocolate fudge brownie mix

17.6–19 oz

¾

cup

creamy peanut butter

¾

cup

powdered sugar

1

teaspoon

vanilla extract

¼

cup

heavy whipping cream

¾

cup

semisweet chocolate chips

or 6 oz chopped chocolate

½

cup

lightly salted roasted peanuts

coarsely chopped (optional)
Instructions 
In a large mixing bowl stir together softened butter, cream cheese, egg, and fudge packet (from brownie mix) until combined. Add brownie mix and stir until just combined.

Scoop 24 portions of dough and put them on a tray or plate that fits in the refrigerator. Chill for about 30 minutes or until the dough is still enough to be shaped into neat balls.

Meanwhile, beat together peanut butter, powdered sugar, and vanilla; stir until smooth dough forms. Form peanut butter dough into 24 equal balls and put them in the freezer for 30 minutes.

Preheat oven to 350°F. Line 2 baking sheets with parchment paper.

Once both doughs are chilled, shape the brownie dough into neat balls and the peanut butter dough into neat balls. Arrange brownie dough about 2 ½ inches apart on baking sheet. Press a ball of peanut butter dough into the center and press down slightly.

Bake cookies 10–12 minutes or until edges are crisp, then cool on baking sheet 2–3 minutes before transferring to cooling rack to cool completely.

Pour cream in a 2 cup liquid measure (or small bowl) and heat for 30 seconds until hot. Add chocolate morsels; let sit 2 minutes to melt. Stir chocolate mixture until smooth and combined. Spread about 1 tablespoon chocolate mixture over each cookie, then sprinkle with chopped peanuts, if desired. Serve.