Today's cookie is a try-at-your-own-risk/experimental cookie. It's a take on the brownie-mix based cookie I tried earlier, but with a few major changes. Instead of using brownie mix, I made a scratch base. For the topping, I used a combination of condensed milk and chocolate chips. In short, I used the old chocolate covered cherry cookie recipe and filled it with peanut butter instead of cherries.
I used the dark style cocoa powder today because it's all I had on hand. While these were good, the dark cocoa was kind of intense. It works, but I think natural would be better. If you make these, let me know. So far no one has tasted these but me, so I am looking forward to second opinions.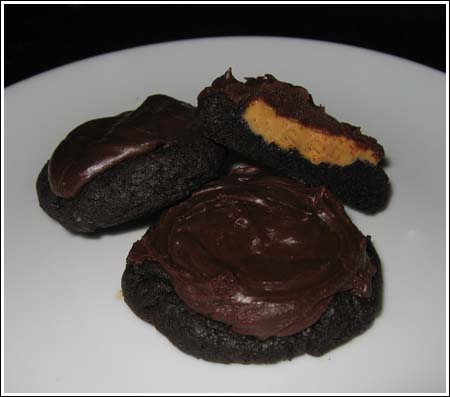 Fudgy Chocolate Peanut Butter Cookies
1 1/2 cups all-purpose flour
1/2 cup unsweetened cocoa powder (natural type)
1/4 teaspoon salt
1/4 teaspoon baking soda
1/4 teaspoon baking powder
1/2 cup butter, room temperature
1 cup granulated sugar
1 egg
1 1/2 teaspoons vanilla
1 cup peanut butter
1/2 cup powdered sugar
1 (6-ounce) package semisweet chocolate chips
1/2 cup sweetened condensed milk
Preheat oven to 350 degrees F.
Thoroughly stir together flour, cocoa powder, salt, soda, and baking powder.
In a mixing bowl, cream butter and sugar with an electric mixer. Beat in egg and vanilla. By hand, stir in flour mixture until well mixed.
Shape dough into 1 inch balls. Place balls on cookie sheets spacing 2 ½ inches apart. Make an indentation in the center of each ball of dough.
Beat peanut butter and powdered sugar together. Spoon a teaspoon of peanut butter mixture into center of each cookie (in indentation).
In a microwave safe bowl, combine chips and condensed milk. Microwave on high for 30 seconds. Stir. Repeat if necessary until mixture is smooth. Working quickly before it stiffens, spoon chocolate mixture over center of each cookie so that it covers peanut butter. Use your finger or a spoon to make sure peanut butter is sealed in.
Bake cookies for 10 minutes. Let cool on sheets for 2 minutes. Transfer to wire racks.
Makes about 32 cookies.