Well, it's late in coming, but we have a cookie.  These are called Aunt Ann's Chocolate Sundae Cookies and they're made with a very old and very famous recipe.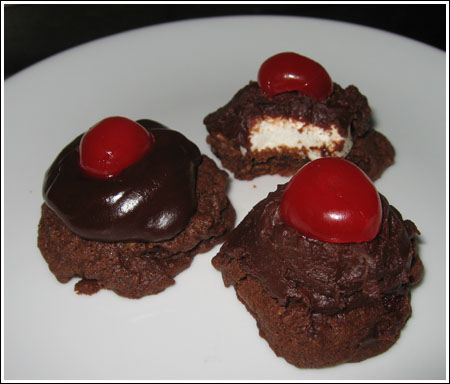 This particular version is from Sue who wrote the following:
My grandmother, now 89, cut out this recipe from either a newspaper or magazine way back when. Last year she gave me the clipping. It's all yellowed and she used some kind of tape to laminate it. It's quite a treasure. At some point, I'm sure as her eyesight became less acute, she wrote the measurements down in her own handwriting beside the original amounts. I'm guessing this helped her to see it better. My grandma made these every year for us. It wouldn't have been a holiday cookie tray at our house without them.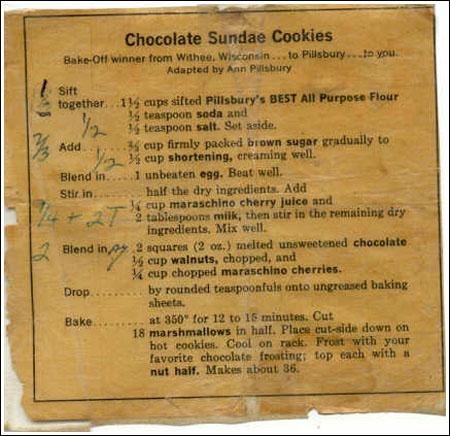 Sue, thanks for the recipe. This is definitely a treasure. I've pasted a cleaner version below and added a couple of glaze recipes. I tried them both and prefer the shiny one. Softened canned frosting would work too.
Aunt Ann's Chocolate Sundae Cookies
1 1/2 cups all-purpose flour flour (200 grams)
1/2 tsp. baking soda soda
1/2 tsp. salt
2/3 cup brown sugar
1/2 cup shortening (96 grams)
1 egg
1 tsp. vanilla
2 squares unsweetened chocolate, melted (56 grams)
2 tbsp. milk
1/4 cup cherry juice, from jar of Maraschino cherries
1/4 cup Maraschino cherries, chopped
1/2 cup walnuts, chopped
Some large marshmallows, cut in half (Jet Puffed!)
Preheat oven to 350 degrees F. Line a couple of cookie sheets with parchment paper.
Stir together flour, soda and salt, set aside (these are the "dry ingredients").
With an electric mixer, beat brown sugar, shortening, egg and vanilla until well blended. Add melted unsweetened chocolate and mix well. Add dry ingredients and stir until mixed, then stir in milk, cherry juice, cherries, nuts and mix until well blended.
Drop by teaspoon onto cookie sheets and bake at 350 degrees for 12 minutes.
As soon as the cookies come out of the oven, press a "Jet-Puffed" marshmallow in the center. Let the cookies sit on cookie sheet until sturdy enough to transfer, then move to a wire rack. Spoon glaze over marshmallow, covering it completely. Cap with a stemmed cherry or cherry half.
Glazing Options.
If you like canned frosting, you can use that. Soften it in the microwave for 20 seconds, stir, and spoon over top. Otherwise, make your own glaze. I tried two.
This one started to set quickly and had a sour cream twanginess. It was good.
Sour Cream Frosting
1 cup chocolate chips
1/4 cup butter
1/2 cup sour cream
1 tsp. vanilla
2 1/2 cups powdered sugar
Melt chocolate chips with the butter, then add sour cream and vanilla. Add powdered sugar and beat well.
Shiny Glaze
6 ounces bittersweet or semi-sweet chocolate, chopped
4 tablespoons butter
4 teaspoons light corn syrup or golden syrup
1/4 teaspoon vanilla extract
In a heavy saucepan, melt butter. When butter is partially melted, stir in chocolate and corn syrup. Stir until smooth. Remove from heat and stir in vanilla.