This cookie was created in response to a question in the comment section. Renee wanted to know how certain companies "ribboned" things like peanut butter, caramel and chocolate through cookies without the ribbons soaking into the dough. I really didn't know the answer, but did some experimenting and came up with this.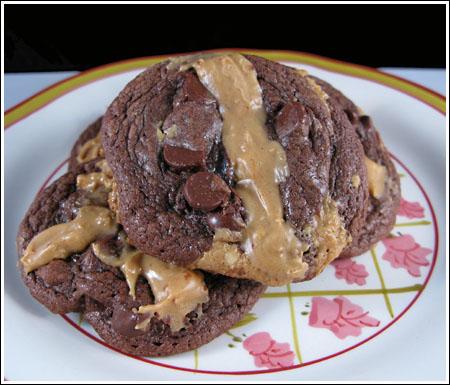 Small Batch Chocolate Cake Mix Cookies
Remember, yesterday I was working with half a box of cake mix. I was down to a quarter box today, so I made another small batch recipe. If you like these, you can always double, triple or quadruple the recipe. Of course once you master the fine art of making these peanut butter ribbons, you can ribbon them through other types of cookies (scratch cookies) and lay them over brownies.
This makes about 7 cookies. These are the cookies. I've included a picture of ribbon mixture below.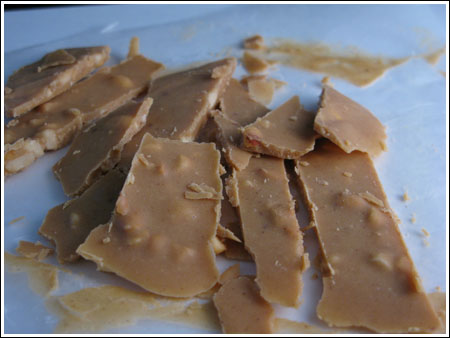 Chocolate Peanut Butter Ribbon Cookies
Peanut Butter Ribbons:
2 tablespoons peanut butter chips
2 tablespoons peanut butter
1 teaspoon butter (sliced from a stick)
Dough:
2 tablespoons butter
1 cup plus ½ tablespoon cake mix (I used Duncan Hines Moist Deluxe Devils Food)
1 tablespoon brown sugar
2 tablespoons lightly beaten egg
⅓ cup semi-sweet chocolate chips
Prepare Peanut Butter Ribbons first.
Line a plate with wax paper. In a small, microwave-safe bowl (I used a custard cup), combine peanut butter chips, peanut butter and butter. Microwave for 30 seconds. Stir until smooth. Spoon the peanut butter mixture onto the wax paper lined plate. I spooned it into a 2 inch wide line, but do it any way you like. Place in refrigerator to firm up. This takes about 30 minutes.
Meanwhile, make very, very, complicated (just kidding) dough. In a medium size microwave-safe mixing bowl, melt the butter. Stir in the cake mix, brown sugar and 2 tablespoons egg. At this point, the dough might be too warm to add the chocolate chips, so chill it for about 20 minutes then stir in the chips.
Preheat oven to 350 degrees F and have ready a parchment or Silpat lined cookie sheet. I think an ungreased sheet would work too.
Remove the now-firm peanut butter mixture from refrigerator and slice it into little ribbons of different sizes. Mine were mostly about ⅓ of an inch wide by 1 ½ inches long. Don't try to be precise, just go with the flow.
Using a tablespoon, scoop up chocolate dough and shape it into a round of about 1 ¼ inches. Break the round in half and nestle a ribbon of peanut butter in the center. Enclose the ribbon in peanut butter and put on a cookie sheet. Repeat to make about 7 cookies. Lay another ribbon of peanut butter across unbaked dough rounds.
Bake for 10 minutes or until dough appears set. Remove from oven and quickly lay another ribbon (or two) over hot cookies. Do this decoratively and artfully. Let the cookies cool on the sheet for 2 or 3 minutes, then transfer to a wire rack to cool and set.
The peanut butter mixture will firm up as it sits.
Makes about 7 cookies