This old prize winner called "Coffee Toffee Chocolate Chip Oatmeal Cookies" is a cookie with crushed up sugar cones in the dough.  It was created for a contest sponsored by Blue Bonnet Margarine and Quaker Oats.  While I like the idea of using the sugar cones, I didn't want to use margarine and used butter instead. I also used chopped toffee in place of brickle, espresso powder in place of instant coffee granules and chopped up Valrhona chocolate in place of chocolate chips.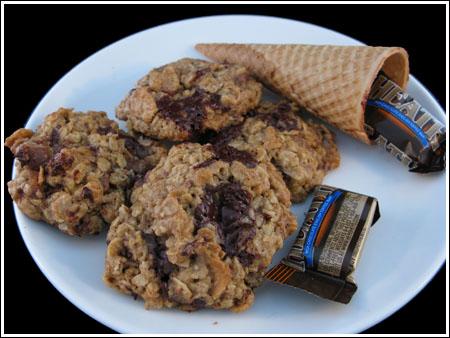 These are delicious. As for the sugar cones, they were delightfully confusing to people (nobody knew the secret ingredient) so I'm looking forward to serving these again. The only problem is the cookies need to be served the first day. My friend Valerie, who also made the cookies, said hers softened a bit on storage. That aside, she still liked the flavor.
Coffee Toffee Chocolate Chip Cookies
1 tsp. instant coffee granules
1/4 cup boiling water
1 1/3 cups packed brown sugar (260 grams)
2 sticks (230 grams) butter at room temperature
1 large egg
1 1/2 tsp. vanilla extract
3 cups quick-cooking oats
1 1/4 cups all-purpose flour (170 grams)
3/4 tsp. salt
1/2 tsp. baking soda
1 package toffee bits (about 8 oz)
1 1/2 cups semi-sweet chocolate chips
4 sugar cones — coarsely crumbled (about 1 cup)
Preheat oven to 350 degrees F.
Dissolve coffee granules or instant espresso in boiling water. Cool to room temperature.
In large bowl cream brown sugar and butter; Add egg and mix until well blended. Stir in coffee and vanilla.
In a medium bowl stir together oats, flour, salt and baking soda. Stir flour mixture into creamed mixture then stir in toffee bits, chocolate chips and sugar cones.
Scoop up generous tablespoons of dough and place 2 inches apart onto 2 baking sheets lined with parchment paper. Bake one sheet at a time on center rack for 12-15 minutes or until golden brown around edges. Cool 5 minutes on baking sheets then remove gently and transfer to racks to cool completely. (Cookies will firm up as they cool). Store lightly covered.
Recipe says it makes about 5 1/2 dozen (I came up with fewer).