This is just another recipe for big fat cookies which you can play around with and make your own. I've included some notes on things you can try, but this is a good base recipe if you are planning on starting your own big fat cookie business or just want to make the cookies for friends.  Also, I wouldn't call these Levain clones.  At first that's what I was going for, but it got to a point where I was just making big fat cookies and didn't really have Levain's to compare with.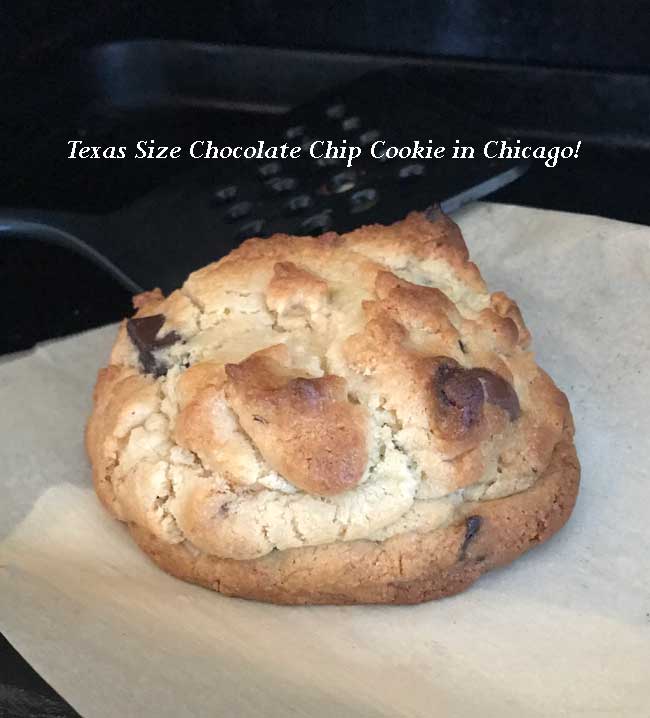 Luckily there are already about a million Levain clones now, so if you are not curious or into experimenting just use one of the ones on the Internet with 5 stars and you'll probably be happy.
Here's a photo of the latest batch.  I made these with a mixture of bread flour and all-purpose and used Plugra butter.  If you can't find Plugra, just use Land o' Lakes.  For some reason Plugra (unlike other European style butters) makes a taller cookie.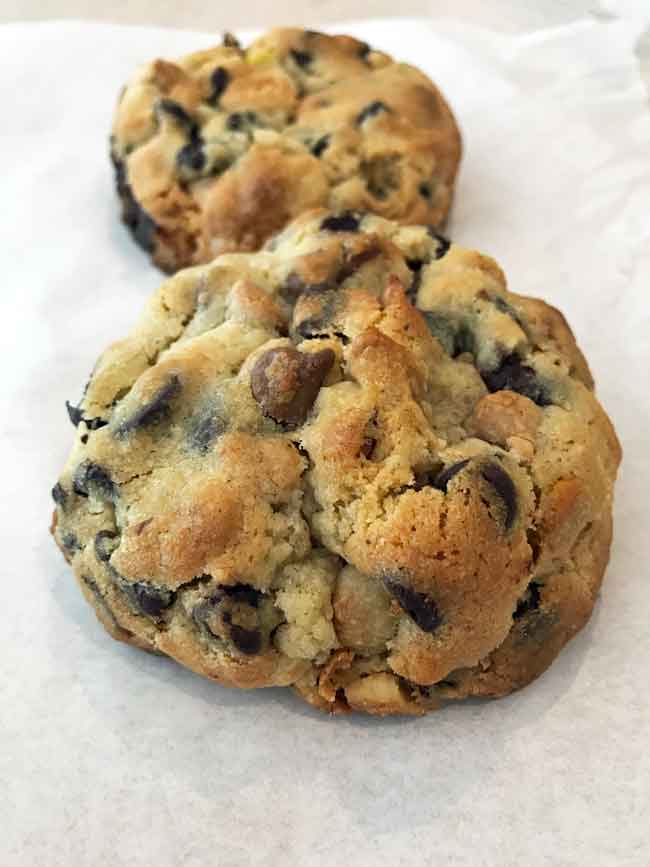 I'm always changing these up and using different chips, nuts and add-ins. 2 cups might seem like a lot, and it is! The amount of chips helps give the cookies structure.
Another thing you can try if you like cookies with a fudgier texture is melting the butter first, whipping the sugar and eggs together, then drizzling in the melted butter slowly before adding in the mixed dry ingredients and add-ins.  That will give you mind of a smoother looking cookie.
Using bleached AP flour will give you whiter cookies that spread a bit more, but you can use that if you don't have bread or unbleached AP.
You can also double the recipe and use 1 extra large egg plus a yolk or even 1 egg and 2 yolks for a more rounded cookie (though I think the high egg yolk cookies don't taste as great).
Texas Size Big Fat Cookies
4 ounces/114 grams unsalted butter, cold – cut into chunks
½ teaspoon vanilla
45 grams granulated sugar (¼ cup, scant)
65 grams packed brown sugar (⅓ cup packed, but please weigh for best results)
1 egg, 54 grams
165 grams flour, can use bread flour or AP flour or a combination of the two**
½ teaspoon salt (use only ½ teaspoon if butter is salted)
½ teaspoon baking powder
⅛ teaspoon baking soda
10-12 ounces (2 cups) assorted chips
½ cup nuts (pecans or walnuts)-- optional
In a stand mixing bowl fitted with a paddle, beat butter until creamy. Add vanilla and both sugars and beat just until creamy. Don't overbeat. Add the cold egg and vanilla and beat just until incorporated.
Stir together flour, salt, baking powder, baking soda and salt. When thoroughly mixed, add to batter and stir just until blended. Stir in chips and nuts.  Dough should be neither too sticky, nor too dry.
Divide dough into 6 mounds, a little over 4 oz each. Bake on ungreased cookies sheets (one sheet at a time).
Bake in a preheated 375 degree oven for 16 to 18 minutes. Let cool. Freeze until ready to eat.