I'm on another big fat cookie kick and have been playing with my old recipe -- the one inspired by Levain Bakery in New York City.  Since I don't own a professional pizza oven or even a regular convection oven, I've started making cookies in my Breville convection toaster oven and really love the results.  It's great for making big fat chocolate chip cookies.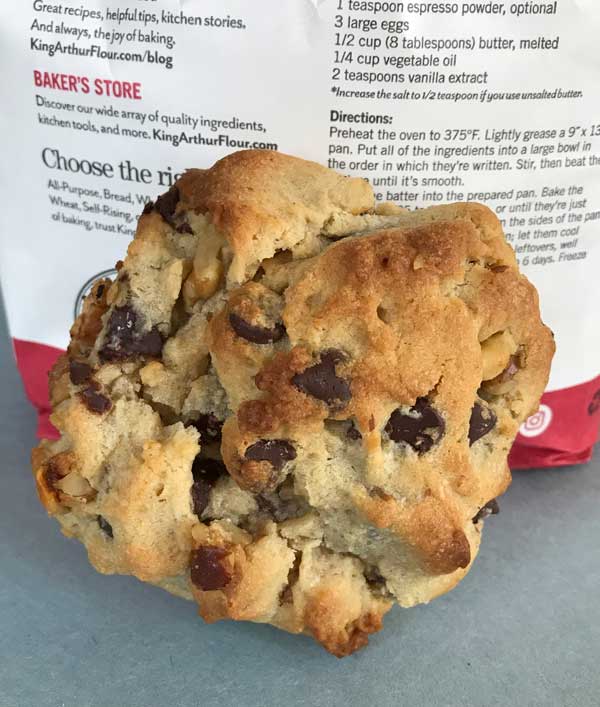 I've changed this recipe multiple times playing with the ratios of ingredients and yield.  Since it's a toaster oven recipe, it makes sense to keep the yield pretty small, so this recipe makes 6 giant cookies.  Each cookie weighs in at a little under 4 oz, so they're not as big as Levain cookies, but they're still big fat cookies.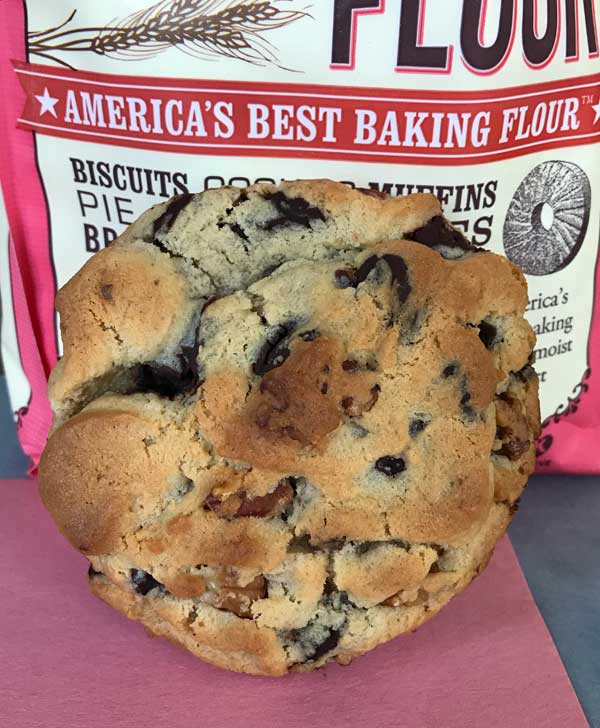 Over the years I've experimented with different types of flour. Bread flour gives you a tall cookie with a thicker crust, while King Arthur AP flour gives you a tall cookie with less of a crust than bread flour. Pastry flour gives you a softer cookie, but the cookies tend to spread more.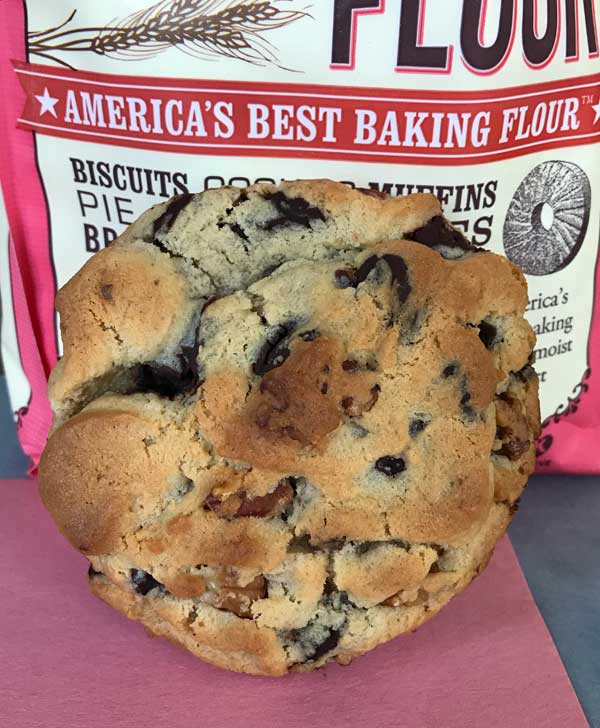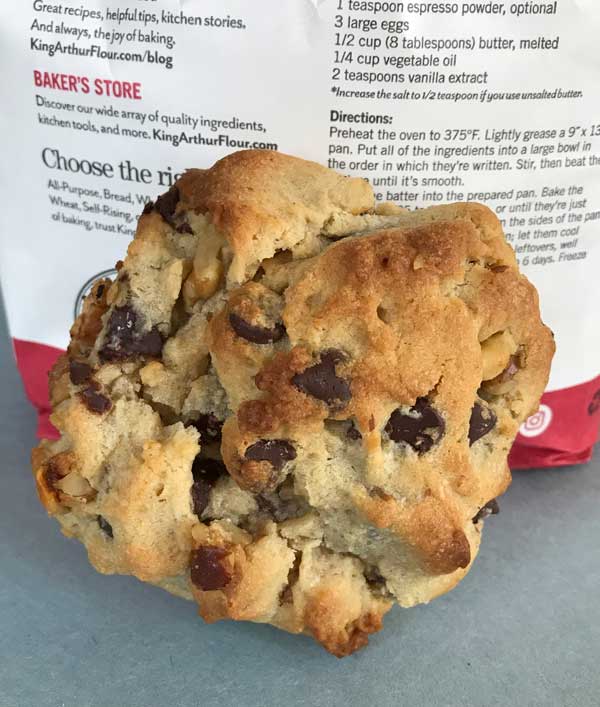 The newest version of the recipe uses a mix of bread flour and all-purpose.  For the butter I just use Land o Lakes or Plugra.  Unfortunately other brand of European style butter and even organic and pasture butter were inconsistent.  As delicious as they are, some of these more expensive butters caused more spreading.  Plugra, for whatever reason, does not.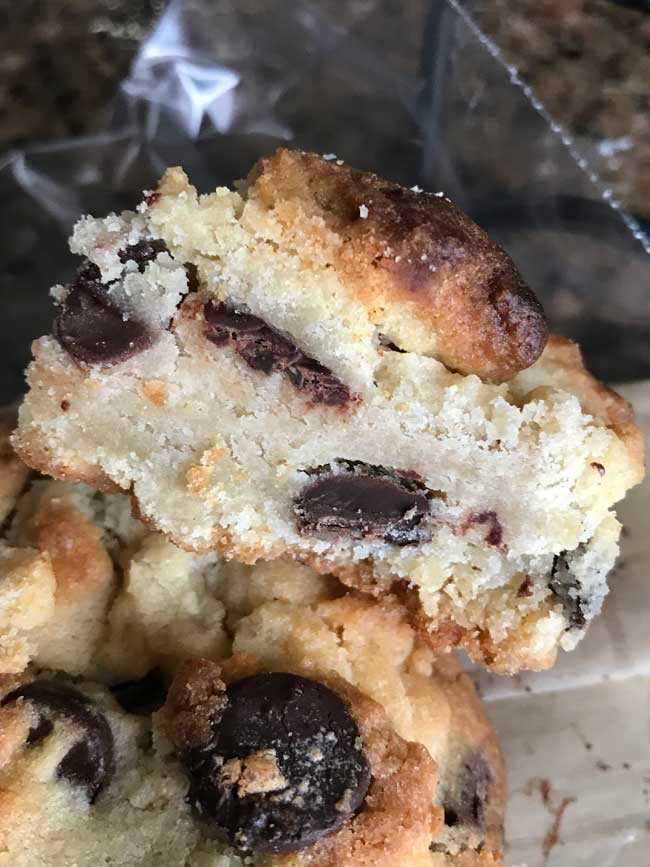 Here's the toaster oven I recommend. This is a newer model with a light! They also have one with an air fryer built in.
Giant Toaster Oven Chocolate Chip Cookies
Recipe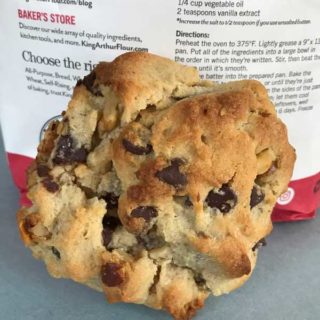 Toaster Oven Chocolate Chip Cookies
Big fat 6 oz chocolate chip cookies baked in a Breville toaster oven with convection. Feel free to substitute all-purpose flour for the mixture of bread and AP. Bread flour makes the crust a little thicker.
Ingredients 
190

grams

bread flour

1 ⅓ cups or use 150 bread and 40 AP

½

teaspoon

baking powder

⅛

teaspoon

baking soda

½

teaspoon

salt

127

grams

unsalted butter

cold and cut into chunks (9 T.)

½

teaspoon

vanilla extract

65

grams

packed brown sugar

60

grams

granulated

1

large egg

lightly beaten (50 grams)

½

cup

assorted chocolate chips
Instructions 
In a large bowl, thoroughly mix together the bread flour, all-purpose (if using), baking powder, baking soda and salt. Set aside.

In a mixing bowl, using a hand held electric mixer or the paddle of a stand mixer, beat the cold butter until creamy. Beat in vanilla and both sugars and continue to beat for 3 to 4 minutes, scraping the side of the bowl every minute or so.

Add the egg and beat until blended, scraping side of bowl.

Using lowest speed of mixer (or by hand), stir the flour mixture into the butter mixture until it is almost fully blended. Stir in the chocolate chips and mix until fully blended.

Divide dough into 6 large balls. To give them a roughed up look, break each in half and pat halves together with broken sides showing.

Wrap the shaped dough balls loosely in plastic and chill until firm, the put in a freezer bag (or wrap tightly) and chill overnight.

Convection Baking: Bake cookies one or two at a time on a parchment lined tray at 400 degrees F. for 10 minutes. After 10 minutes, lower heat to 330 and bake for another 5 minutes. Allow the cookies to cool for at least an hour before serving. They need time to set.