Levain Bakery in New York City makes the best giant dark chocolate cookies.  Studded with peanut butter chips and not too sweet, the dark chocolate cookies are almost as good as their giant chocolate chip.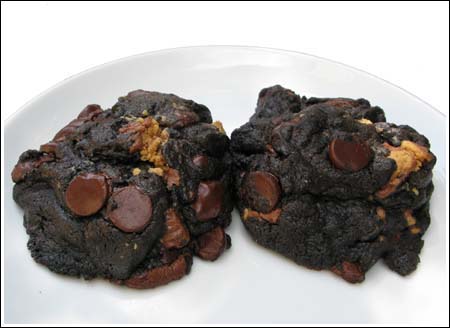 This recipe was an attempt to replicate Levain's cookies at home.  Jessica from Su Good Sweets and Lisa from Parsley Sage Sweet were the first to make what in my opinion is the closest version.  Using their version as a start, I made a smaller batch version.  What type of butter you use (European style vs. American), brand of flour and how heavy handed you are when measuring it, type of cocoa powder (Dutch vs. Natural) and even your oven will influence just how big and fat your cookie will be, so use this recipe as a start and adjust as needed.
I think one key thing with these cookies is they need to be underbaked slightly and allowed to sit for a while and cool internally. You can play with cook times, but I had good results using the ones that follow.
Giant Dark Chocolate Cookies with Peanut Butter Chips
(Yields 10 giant cookies)
230 grams (2 sticks) cold, unsalted butter, cut into pieces
150 grams brown sugar
100 grams granulated sugar
2 large eggs
½ teaspoon vanilla extract
45 grams (½ cup) dark cocoa powder (e.g. Dutch process or Hershey's Dark)
160 grams bread flour
125 grams all purpose flour
½ teaspoon salt
1 teaspoon baking powder
1 cup dark chocolate chips
1 cup peanut butter chips
Preheat oven to 375 degrees.
In bowl of a stand mixer fitted with paddle, cream together butter and both sugars until well-blended. Add eggs and vanilla and beat just until incorporated, then scrape sides of bowl and beat in cocoa powder. Scrape sides of bowl again.
In a separate bowl, thoroughly stir together flour, salt and baking powder. Stir the flour mixture into the chocolate mixture. When flour is mixed in, go ahead and fold in the chocolate chips and peanut butter chips. Divide into 10 equal portions ( you can make them larger or slightly smaller if desired).
On a parchment paper or Silpat lined or non-stick cookie sheet (don't use grease or spray), place the cookie dough mounds.
Bake at 375 degrees for 8 minutes, then without opening oven or tampering with cookie sheet, reduce heat to 325 degrees and bake for another 8-10 minutes or until cookies appear set but still slightly moist in the center. If you have a convection oven, bake at 400 for about 8 minutes then reduce heat to 330 and bake for another 10 minutes or until the cookies have little cracks on the top.
Let cookies cool on rack for about 5 minutes, then transfer to a rack to cool and set.