The other day someone asked me if I thought 4 sticks of butter (1 pound) was too much for a recipe. Expecting to find the 4 sticks butter balanced out by 3 or 4 cups of flour and plenty of sugar, I took a look at the recipe, which happened to be this one – Bouchon Bakery Nutter Butters. (If you can't see the one from The Times, it's also here).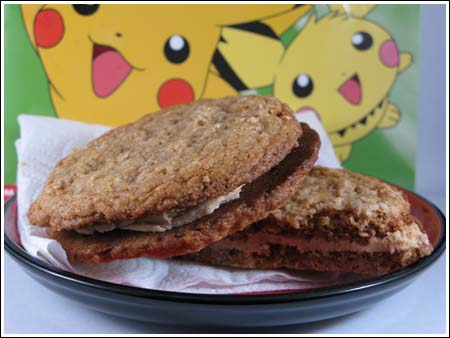 The amount of flour, sugar, oats and peanut butter seemed pretty low compared to the butter, so my guess was that if these cookies were a nod to the packaged Nutter Butters, they needed a lot of butter to spread properly and stay crisp. I decided to bake a half batch and find out for myself.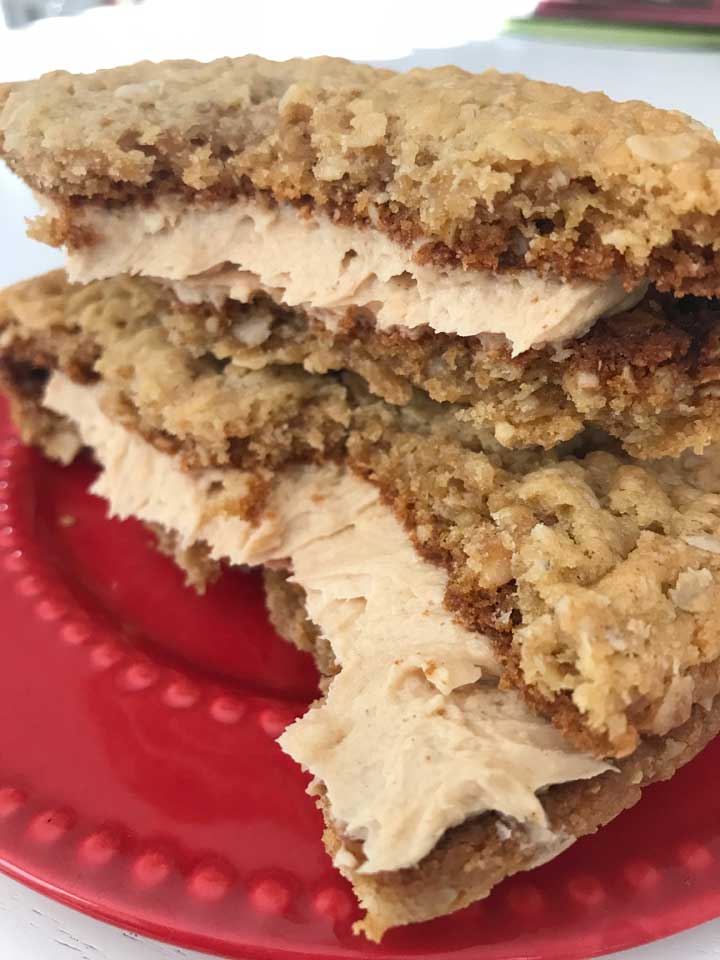 I didn't weigh the cookies, but I'm guessing one of these is equal to about 6 actual Nutter Butters. Worth it? You be the judge. Update: I did weigh one and it was equal to way more than 6 Nutter Butters!
Bouchon Bakery Nutter Butters Tips
For best results, portion the dough, chill it, then shape into rounds. Bake the chilled rounds. Chilling will help curb the spreading.
Cookies need to sit on the cookie sheet for a few minutes to set.
Bouchon recommends Skippy Peanut Butter for some reason. Nothing against Skippy, but I used Jif. I did have some Skipp2last week and noticed the two peanut butters have a remarkably different flavor.
Bouchon Bakery is known for huge cookies, so that's what this recipe is designed to give you — absolutely huge bakery style cookies. You can make as is or halve the recipe and get 12 "normal" size cookies. These days I halve the recipe and make 3 dramatically large cookies or quarter it and make 2 still-very-large cookies. The family just slices off pieces.
Bouchon Quarter Batch Two Giant
Since this is the way I usually make the cookies, I figured I'd post the measurements here. As always, it is best to use a scale.
1/2 cup (70 grams) all-purpose flour, sometimes I swap 2 T of AP for a little white whole wheat)
1/2 teaspoon baking powder
1 teaspoon baking soda (it's a lot, but it helps the cookies spread and brown evenly)
1 stick (114 grams) softened salted butter or unsalted and 3/8 teaspoon salt
2 tablespoons plus 2 teaspoons creamy peanut butter or 3 tablespoons chunky (40-50 grams)
1/4 cup granulated sugar (50 grams)
1/4 cup packed light brown sugar (50 grams)
2 tablespoons lightly beaten egg (27 grams)
1/2 teaspoon vanilla (so slightly more than quarter of the original)
2 tablespoons chopped peanuts (half the time I just leave these out and use chunky pb)
Around 3/4 cup of quick cooking oats
Filling: 4 tablespoons softened butter, 4 tablespoons peanut butter, 3/4 cup confectioners'
Recipe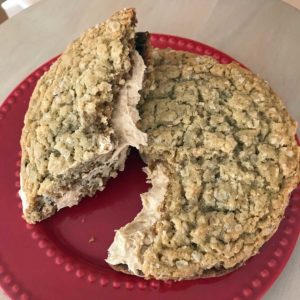 Bouchon Bakery Nutter Butters
Bouchon Bakery Nutter Butters
Ingredients 
Cookie Dough:
2

cups

all-purpose flour

(280 grams) -- See note about flour

2

teaspoon

baking powder

4

teaspoons

baking soda

1

pound

salted butter, at room temperature**

(480 grams)

2/3

cup

creamy peanut butter

1

cup

granulated sugar

(200 grams)

1

cup

firmly packed light brown sugar

(200 grams)

2

large eggs, room temperature

(100 grams)

1 1/2

teaspoons

vanilla extract

1/3

cup

coarsely chopped peanuts

2 1/2

cups

quick-cooking oats
Cookie Filling:
2

sticks

butter, softened

(240 grams)

1

cup

creamy peanut butter

(130 grams)

3

cups

confectioners' sugar plus a tiny bit more if needed

(360
Instructions 
Prepare Dough: In a bowl, mix together the flour, baking powder and baking soda; set aside.

Using an electric mixer, beat the butter and peanut butter. Add sugars and beat at medium speed for 3-4 minutes, scraping down bowl twice.

At low speed, add egg and vanilla. Add flour mixture and stir until well mixed, frequently scraping down bowl. Add peanuts (if using) and oats, and mix well. Using an ice cream scoop, scoop out 12 rounds of dough and put on plastic wrap lined dinner plates. Cover and chill for 30 minutes. After 30 minutes, shape dough into 3/4 inch thick rounds.

Preheat oven to 350 degrees F.

Arrange rounds on parchment lined baking sheets spacing a good 4 inches apart.

Bake until cookies have spread and turned very light golden brown, about 10-14 minutes. Remove from oven and set aside to cool and firm up, 5 to 10 minutes. Transfer to a rack to cool completely before filling.

Filling: Using an electric mixer, beat the butter, peanut butter and confectioners' sugar until very smooth.

Assembly: Spread a thin layer (about 1/8 inch) on underside of a cookie. Sandwich with another cookie. Repeat.
Notes
Adapted from Frank Bruni in the New York Times, December 27, 2006
The recipe doesn't call for added salt, so I think these would be best with salted butter. If you use unsalted, you might want to add 1/2 teaspoon to the dough
It's best to use 280 grams of flour because the cookies need it!   Too much flour and they'll lose their crispness, but too little and they will spread too much and be greasy.  It's best to weigh out the flour.