I baked this Applesauce Streusel Cake for my mom, who came to town for a visit.  I had this coffee cake in the oven when she arrived and the whole house smelled great!  The original recipe is from a book called A Texas Hill Country Cookbook but if you have problems, don't blame the book because I made about 10 changes. The end result was delicious.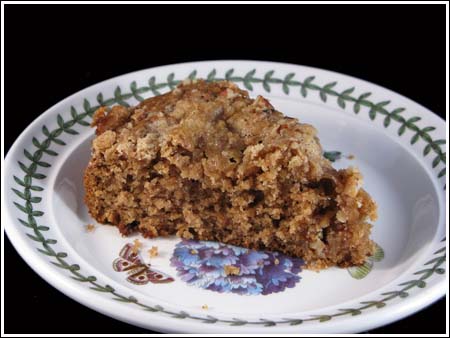 Easy Applesauce Streusel Coffee Cake
Cake:
1 2/3 cups cake flour or 1 ½ cups all purpose
1 teaspoon baking soda
2 teaspoons cinnamon
1/2 teaspoon allspice
3/4 cup packed light brown sugar
1/2 cup melted butter
3/4 cup applesauce
1/4 cup sour cream**
1 teaspoon vanilla
1 large egg
Streusel
1/4 cup cake or all purpose flour
1/4 cup brown sugar
1/4 cup granulated sugar
1/4 teaspoon cinnamon
Dash fresh nutmeg (1/8 tsp)
4 tablespoons cold butter
1/4 cup chopped pecans (don't need to toast)
Preheat oven to 350 degrees F. Spray a 9 inch round springform pan or an 8 inch square metal pan with flour-added cooking spray.
In a medium mixing bowl, thoroughly stir together flour, soda, cinnamon, allspice and brown sugar; set aside.
In a large bowl, mix melted butter, applesauce, sour cream, vanilla and egg. Add the dry ingredients to the liquid ingredients and stir until mixed. Pour into pan.
Make streusel. In a mixing bowl or food processor, mix together all dry ingredients then cut in butter. Sprinkle over top of cake. Sprinkle nuts over top of streusel. Bake for 40-45 minutes or until golden brown around edges.
Cool slightly. Remove sides of pan and cut into triangles.
Serves 6
** Can omit and use 1 cup applesauce