I guess the new year is making me feel nostalgic, because here's another recipe from way back when. In this case that's 1972, and the recipe is Vanilla Crumb Coffee Cake. It's from The Southern Living Party Cookbook, one of Southern Living's most popular cookbooks of all time.
Jump to Recipe
Back in 2019 I wrote about the new and updated version of the party book. Since then I've grown to love it so much that my husband gave me 1972 book for my birthday. The Vanilla Crumb Coffee Cake is in the original book, but for some reason they did not include it in the updated version.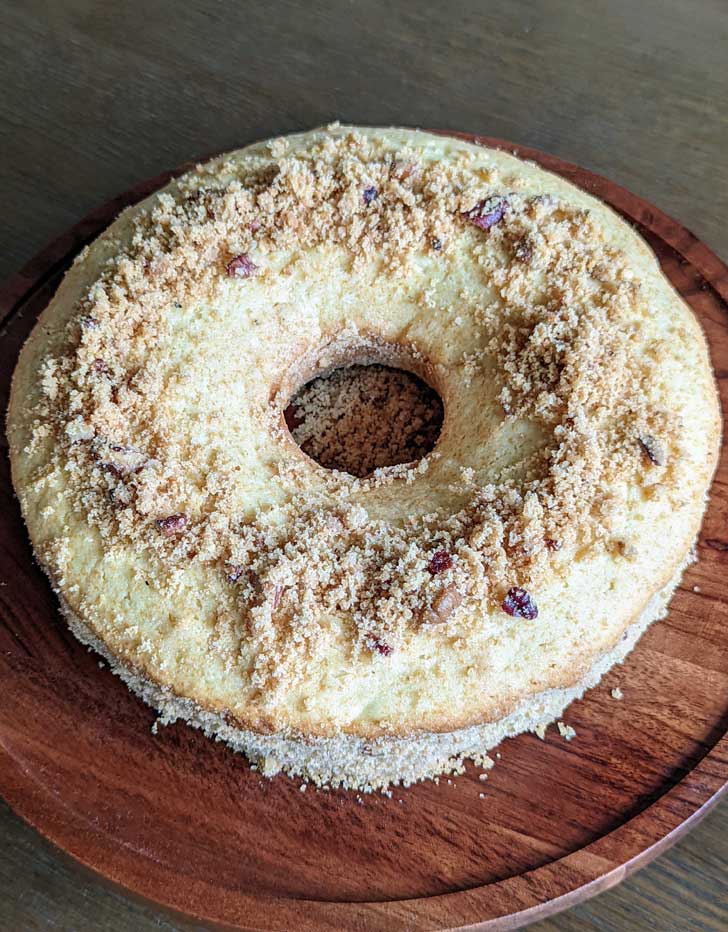 A Cake With a Vanilla Wafer Crust
So they may not have included it in the new book, but the recipe caught my eye immediately because I love those cakes where you press some kind of mixture along the wall of the pan so that it forms a crust. Often it's an almond mixture, but sometimes it's even more interesting — like in Cradle Cake, where you spread an egg white/sugar mixture along the walls. In this case vanilla wafers do the job.
For Vanilla Crumb Coffee Cake, you grind the cookies into crumbs, mix with sugar, butter and pecans, then press into the bottom and up the sides of the pan. Next, you pour batter over the crust and bake. Lastly, you invert the cake along with the crunchy bits. In some cakes the crusty bottom becomes the top, but in this recipe you turn the cake back over and the crumb crust sits on the bottom. Here's a picture of it sliced. The piece is lying on its side so the crusty part is on the right. The inverting process generates a lot of crumbs, so I recommend sprinkling them over the top.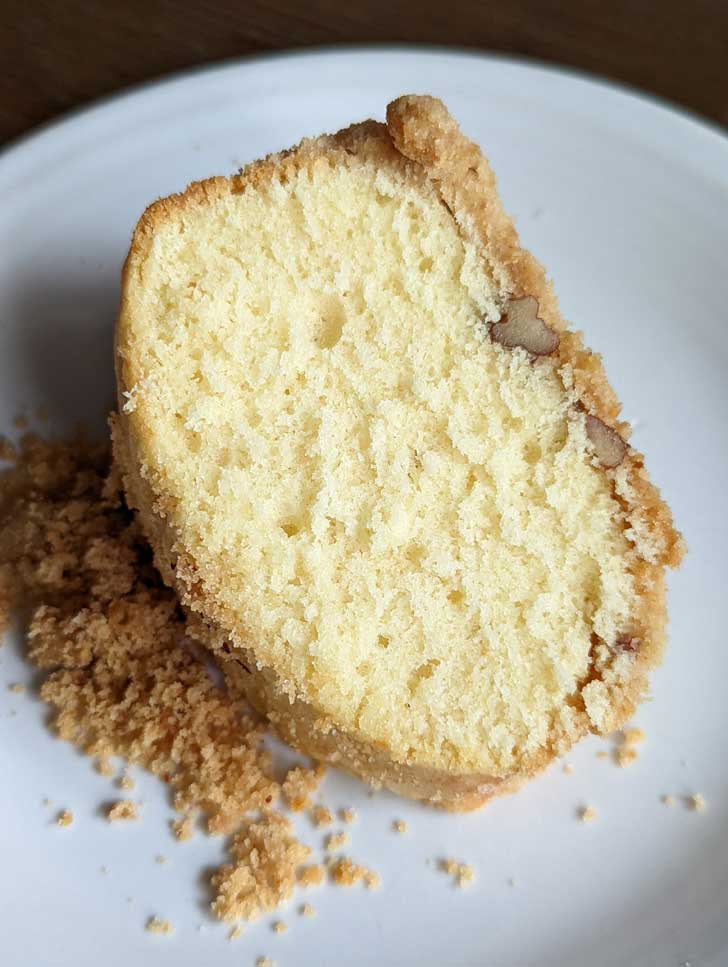 Texture and Flavor
So you have a cake with a crunchy cookie crust, but how about the inside crumb? Well, it's a very simple one flavored with just butter, eggs, vanilla and almond, so it's important to pay attention to technique. This means sifting the flour, using room temperature ingredients and beating the eggs in one by one. The batter gets scraped (it's pretty thick) into a pan and looks like this.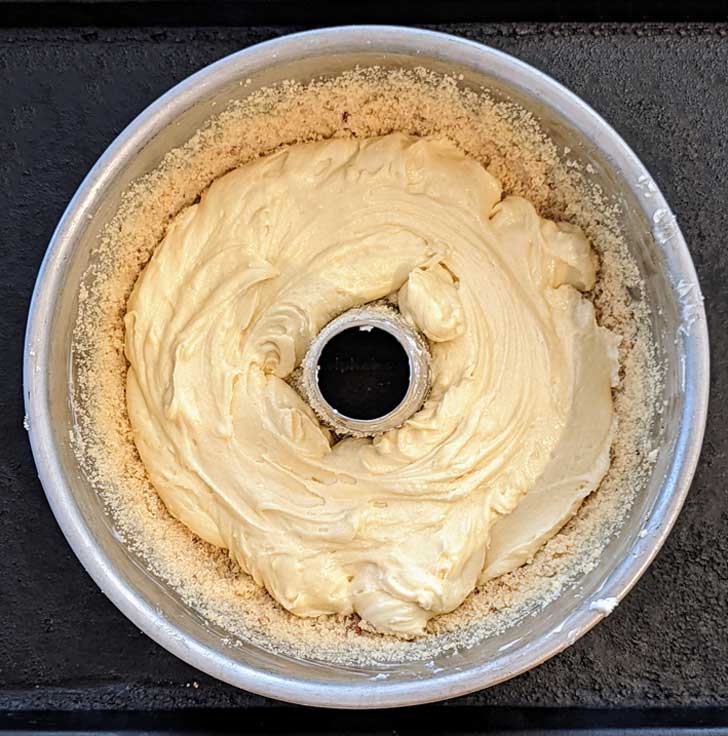 It is not a tall and stately cake, but I wouldn't call it stumpy. In the party book, it falls under the section called "Hearty Coffee — Coffees for 16 to 20". You are supposed to make it ahead, freeze, then thaw it out and serve at your next coffee. So that's an option. I will be slicing it into thirds, freezing, and thawing it out for random desserts, as I don't foresee a coffee for 20 in my future.
Recipe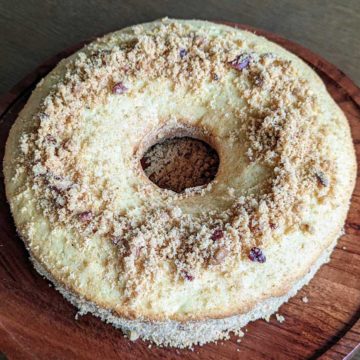 Vanilla Crumb Cake
A soft vanilla & almond flavored cake with a vanilla wafer & nut crust. Serve with peaches (if you have some) and maybe a little whipped cream!
Ingredients 
Shortening or butter for greasing pan
Crumb Mixture
1

cup

vanilla wafer or Nilla Wafer crumbs (about 28 cookies)

Use a good brand

3

tablespoons

sugar

(36 grams)

1/2

cup

chopped pecans

1/4

cup

salted butter, melted

(56 grams)
Cake Batter
2

cups

sifted all-purpose flour, sift then measure or weigh

(240 grams)

1

teaspoon

baking powder

1/4

teaspoon

salt (increase to 1 teaspoon if you used unsalted butter)

1

cup

sugar

(200 grams)

1/2

cup

salted butter, room temperature

2

large

eggs, room temperature

1

teaspoon

vanilla extract

1/2

teaspoon

almond extract

1/2

cup

whole milk

(114 grams)
Instructions 
Grease a 10 inch tube pan generously with shortening or butter.

Grind the vanilla wafers to make 1 cup of crumbs, then mix them with the 3 tablespoons of sugar, chopped pecans and 1/4 cup of melted butter.

Press the crumb mixture into bottom and up sides of tube pan, stopping about 1 1/2 inches from the top of the pan. Set aside. Note: I did this and then scattered extra pecans across the bottom for more crunch.

Mix together the sifted flour (240 grams), baking powder and salt, then set aside.

In the bowl of a stand mixer, cream the 1/2 cup of butter with the 1 cup of sugar, scraping sides of bowl often. Add eggs, one at a time, beating for 30 seconds after each egg is added. Beat in the vanilla and almond extract.

Add the flour mixture alternately with the milk, stirring by hand or on lowest speed until blended, then beat with the mixer for about 30 seconds (no more) just to help build the structure a bit. Do not overbeat.

Scrape the thick batter into the pan. Set the pan on a rimmed baking sheet and bake for one hour.

Let cool in the pan for 10 minutes. then invert pan onto the baking sheet so that the crust layer is on the top. Crumbs will fall everywhere, so use the baking sheet to catch them. Turn the cake back over so that the crumb crust is on the bottom, then transfer to a cake plate. Sprinkle the fallen crumbs over the cake.

Let cool, then freeze if desired. To freeze, wrap the cooled cake in foil. To serve, thaw one hour at room temperature.