I was right in the middle of making something else when I got an email from Carrie, who'd been promising to send me her latest greatest cookie recipe. Along with the recipe, she included a note saying she and her middle son created it (with a little boost from the King Arthur flour people) as a tribute to Take 5 Bars – her favorite candy bar. Well Take 5 is my favorite candy bar too, so I read the recipe knowing full well that I was about to stop my current project and make these cookies.
Luckily, this is an easy one bowl recipe. You can use an electric mixer if you want, but I just beat everything together with a spoon and the cookies came out excellent. Here's a picture of a few. Just for fun, I'm chilling the remaining dough to see if the cookies bake up higher with cold dough…..not that it matters. These are so good! My only advice is don't even think about eating these hot. The cookies need to cool so that the pretzels crisp up.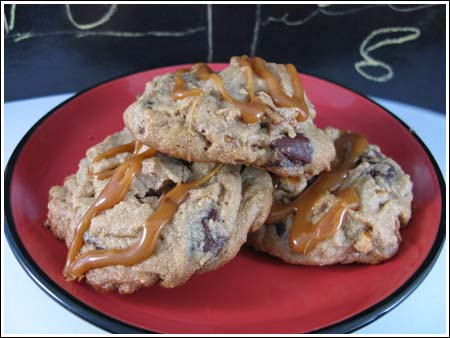 Mom and David's Faves (from Carrie Fields)
1 cup unsalted butter
1 cup dark brown sugar
½ cup sugar
¼ cup dark corn syrup
¾ tsp. baking soda
1 tsp. salt
2 tsp vanilla extract
2 large eggs
2 cups creamy peanut butter
2 cups all-purpose flour
2 cups chocolate chunks (your choice of intensity, just use good chocolate)
large double fisted handful of pretzel sticks lightly crushed (good and salty)
soft caramels to melt and drizzle
Preheat oven to 325. Line baking sheets with parchment.
In medium bowl, cream together butter, sugars, corn syrup, baking soda, salt, and vanilla. Add eggs one at a time, beating well after each addition. Add the peanut butter, beating until the mixture is light and fluffy. Stir in the flour. Mix in half of the chocolate and half of the pretzels.
Drop dough by soup spoon full onto cookie sheets. Add 3 or 4 more chunks of chocolate on top and a few nice size pieces of pretzel so that they will show nicely when baked off.
Bake the cookies for 15 minutes, until they are lightly golden around the edges. Remove from the oven and cool on a cooling rack.
When cool drizzle with caramel. YUMMMMMMMMMMMMM!
Yield: approximately 40 cookies