I never loved coconut macaroons until I tried Ina's Coconut Macaroons. This recipe. from Ina Garten of course, is for the giant, chewy, bakery style cookies that are sometimes plain and sometimes dipped in chocolate.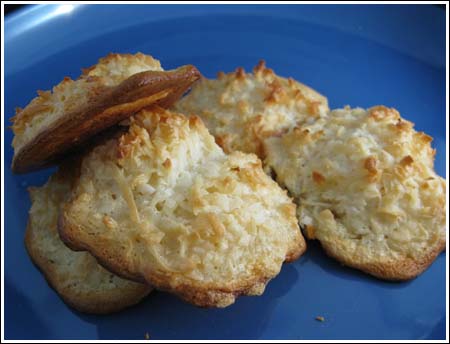 Even if coconut is not your favorite thing, you may fall in love with these cookies. The condensed milk gives them a flavor similar to dulce de leche. And rather than a blast of coconut, you get a sugar, burnt sugar & milk flavor. I can't stop eating them.
Alternatives to Ina's Coconut Macaroons
If you're still not sure you want macaroons or thinking you don't want to trade coconut for chocolate, an alternative to Ina's recipe is this old recipe for Chewy Chocolate Macaroons from Cooking Light. I need to update the photo, but I can tell you that those macaroons, even with the fat free condensed milk, are terrific.