There are fancy French macarons and there are coconut macaroons. This recipe is for the latter. It's similar to the tried and true macaroon recipe made with condensed milk, but enhanced with caramel sauce, chocolate chips and pecans.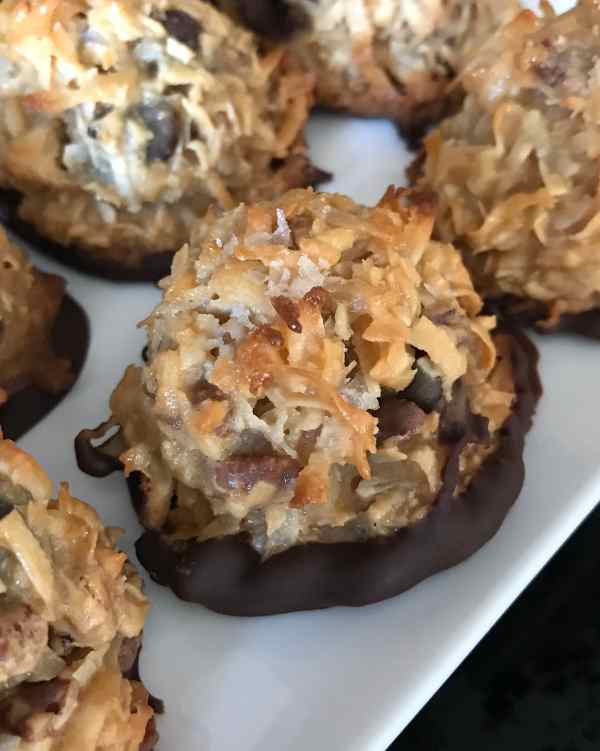 Salted Caramel Macaroon Origin
The original version is from the 2012 Pillsbury Bake-Off, but I changed it up a bit by using a scoop to make them larger, dipping them in chocolate, and using salted caramel flavored baking chips. The caramel flavored chips add a little something, but you can make these without the special chips as well.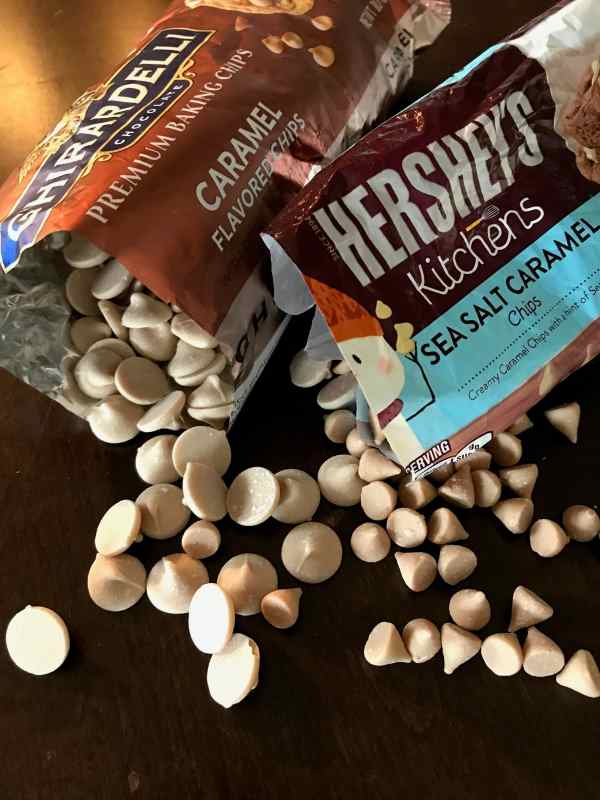 You can throw the chips into the cookies, or melt them and brush them over the bottom.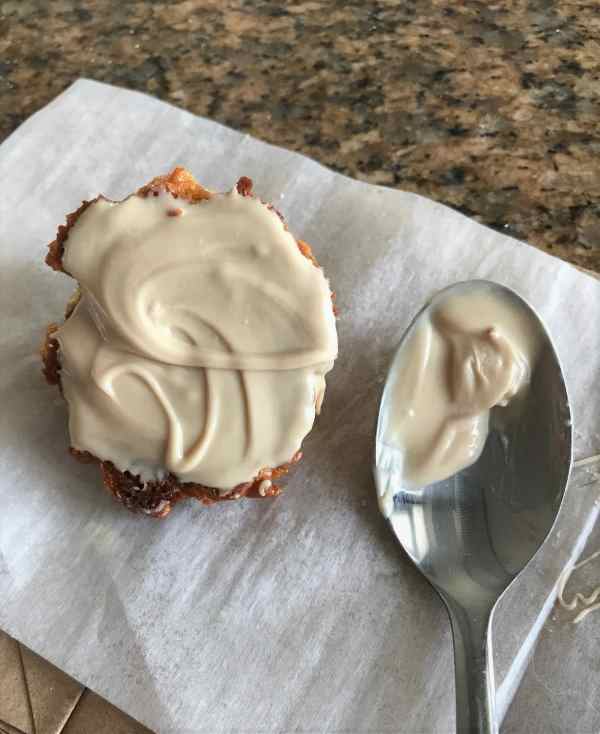 Medium Size Cookie Scoop
By the way, if you don't own a cookie scoop, I highly recommend the Oxo medium size scoop. I am only slightly exaggerating when I say I regret all the years of my life not having one of these! Now I did own cookie scoops, but they didn't function as well and they kept breaking. This one makes beautiful scoops, and if it does break I will immediately buy another one. The capacity is about 3 tablespoons, so if you use a scoop for these cookies you'll get 48 instead of 60.
Recipe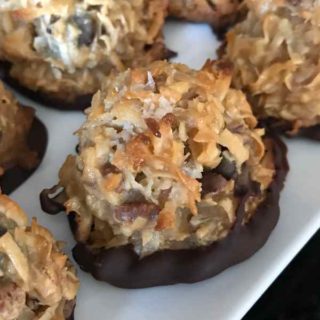 Salted Caramel Macaroons
Ingredients 
1

14 oz. can sweetened condensed milk

1

12.25 oz jar caramel topping

¾

teaspoon

salt

1

teaspoon

vanilla extract

1

cup

all-purpose flour

2

14 oz bags flaked coconut

¾

cup

toasted chopped pecans

½

cup

semisweet chocolate chips or caramel flavored chips

Sea salt for garnish
Instructions 
Preheat oven to 325°F. Line 2 large cookie sheets with parchment paper.

In large bowl, stir together condensed milk, caramel topping, salt, and vanilla extract.

Add flour and stir until blended, then stir in coconut, pecans and chips until well mixed.

Drop dough by heaping tablespoonfuls (or use a medium size cookie scoop) and arrange cookies 1 inch apart (2 if making larger cookies) on cookie sheets.

Lightly sprinkle tops with some sea salt

Bake 15 to 25 minutes (20 worked for the large cookies) or until golden brown. Transfer to cooling racks and let cool completely.

Put about 1 cup of chocolate chips in a microwave safe bowl. Heat on high, stirring at 30 second intervals, until chocolate is melted. Dip bottoms of cookies in melted chocolate and set on a parchment lined tray. Put in the refrigerator to set chocolate. Alternatively, you can use the caramel flavored chips. For the caramel chips you'll need to use a slightly lower setting on the microwave (50% power works) since they have more sugar and can scorch easily.