Here's today's easy recipe. Yes, it's another easy peanut butter cookie, but it's a one-bowl recipe. Plus, don't you have Easter candy to use up? A chocolate bunny you're tired of looking at? Miniature bunnies? Chop them up and put them in One Bowl Peanut Butter Milk Chocolate Cookies. Or, if you don't have Easter candy around, use peanut butter cups.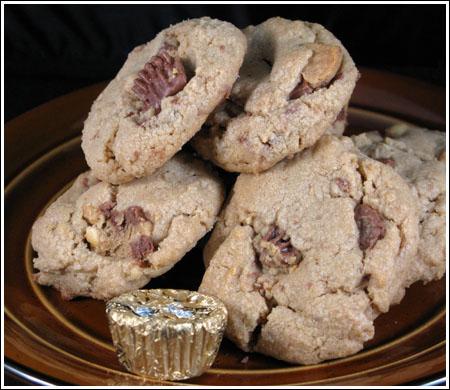 One Bowl Peanut Butter Milk Chocolate Cookies
4 tablespoons unsalted butter, room temp
1/4 cup brown sugar, packed
1/4 cup granulated sugar
1/2 cup extra crunchy peanut butter
1/4 teaspoon vanilla extract
1 egg
1/8 teaspoon salt
1/4 teaspoon baking soda
3/4 cup all purpose or white whole wheat flour (95 grams)
15 miniature peanut butter cups, frozen and chopped or 3-4 oz milk chocolate
Preheat oven to 350 degrees F.
In a mixing bowl, beat together butter and both sugars. You can use an electric mixer, but I used a spoon. Beat in the peanut butter, vanilla, baking soda and salt. Beat vigorously and thoroughly to distribute baking soda and salt, scraping sides as you go, then add the egg and beat just until it is mixed in. Add the flour and stir, do not beat, until it is absorbed, then mix in the cups.
Using a small cookie scoop (2 tsp) or a rounded teaspoon, drop dough onto two ungreased cookie sheets, 10-12 cookies to a sheet. Flatten tops slightly. Bake on center rack, one sheet at a time for 12 minutes or until cookies appear set.
Makes 20-24 cookies