Today's recipe is for tomorrow's Teacher Appreciation luncheon. I'm always taking things with chocolate and wanted to try something a little different. With frozen blueberries on hand, the egg-free Blueberry Oat Bars seemed like a good choice.
The bars are packed with berries and each bite is almost like eating blueberry pie. They set up pretty well in the refrigerator and slice fairly neatly, but here's the problem. Seeds! I absolutely can't deal with them. In fact, I'm about to go do some research on "seedless blueberry cultivation".
If seeds aren't an issue, then by all means, give this recipe a try. It's a fairly small batch and can easily be converted to vegan if needed. No eggs! Meanwhile, if you have any info on seedless blueberries, I want in. Where can I find such a thing?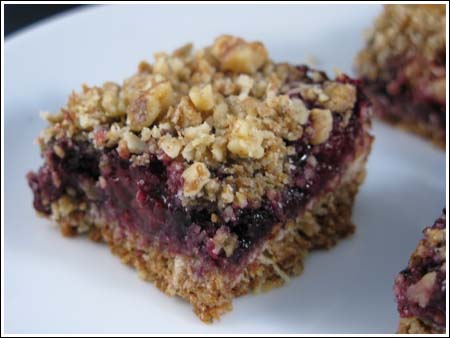 Blueberry Oat Bars
1 1/2 cups quick-cooking oats
1/2 cup all-purpose flour
1/2 cup dark or light brown sugar, packed
1/4 teaspoon baking soda
1/4 teaspoon salt
1/4 teaspoon cinnamon
6 tablespoons unsalted butter, melted
1/4 cup chopped walnuts or pecans
Filling:
1 2/3 cup frozen blueberries
3 tablespoons granulated sugar
2 teaspoons cornstarch
2-3 teaspoons lemon juice
Heat oven to 350. Line an 8-inch square baking pan with non-stick foil or parchment paper.
In a large bowl, mix oats, flour, brown sugar, baking soda, salt and cinnamon. Add melted butter and stir with fork until evenly moistened (mixture will be very crumbly). Reserve 1/2 cup crumb mixture for topping; Press remaining mixture firmly over bottom of foil-lined pan. Bake 12 minutes to set crust.
Prepare Filling: In a small saucepan, combine blueberries, sugar and cornstarch. Stir in lemon juice. Turn heat to medium and cook, stirring often, until mixture begins to thicken slight (it won't be too thick) and clear (about 7 minutes). Remove from heat and pour over baked crust. Crumble reserved crumb mixture over top, then sprinkle nuts over crumb mixture.
Bake 30 minutes until top is browned and filling is bubbly. Let cool completely in pan set on a wire rack. When cool, chill for an hour before cutting. Lift foil by ends onto a cutting board. Peel off foil; cut into 12 bars. Store in refrigerator, but serve at room temperature.
Makes 16 squares or 12 larger bars