This recipe for Marbled Peanut Butter Brownies is adapted from an old state fair winner.  Or to be more specific, the Dutchess County Fair Junior Division circa 1984.  It worked well for me on the first try (though I had some doubts!) but I have modified it a bit to make it even better.  Sometimes peanut butter recipes, even good ones, can be a little dry.  To ensure that these aren't dry, I've added some tips plus notes on the best type of flour, peanut butter, etc.  So hopefully the notes will be helpful.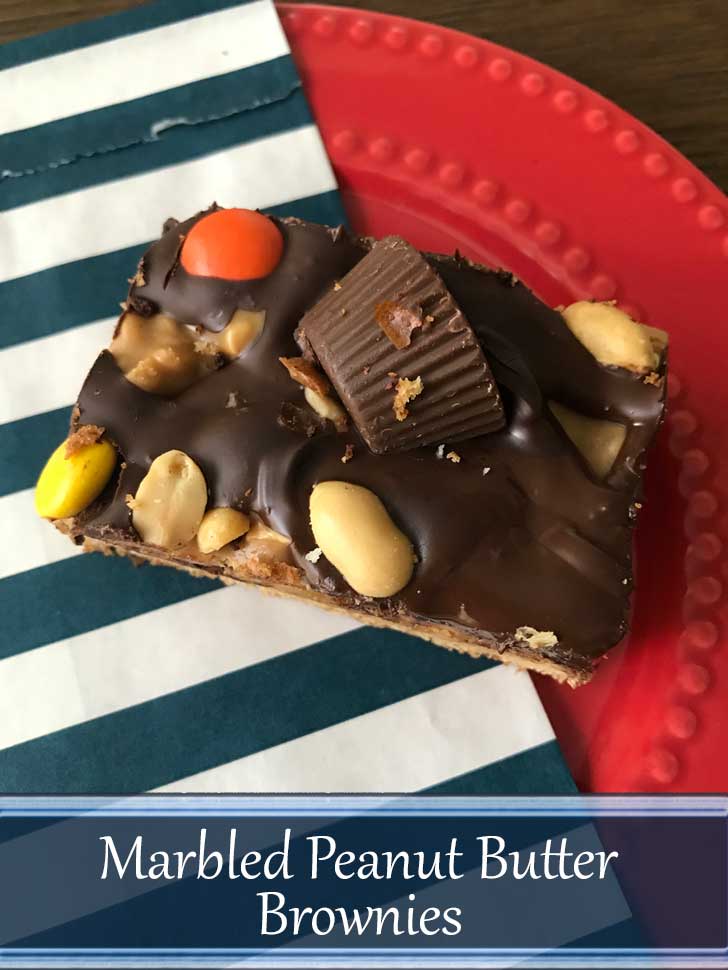 Marbled Peanut Butter Brownies are baked in a 9 inch pan.  I originally made them in an 8 inch pan, but they were kind of thick and had a higher ratio of cake to toppings.  The 9 inch pan version gives you a better ratio of crust to toppings.  You have a sturdy and tasty, chewy but not overly rich base, then a topping of very rich peanut butter and melted chocolate.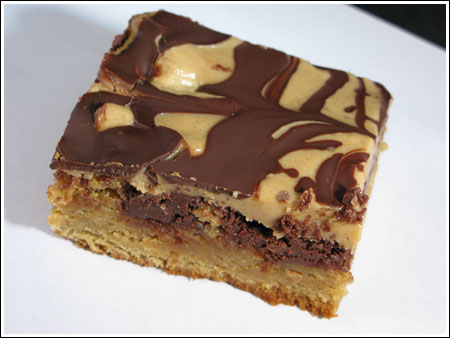 Once baked and cooled, you spread a mixture of melted peanut butter and butter over the top, let that cool a bit, then marble with melted semisweet or dark chocolate. 
Marbled Peanut Butter Brownies Notes
Flour -- Use no more than 190 grams of AP flour, otherwise the base might be too dry.  It's supposed to be slightly dry to balance with the marble and the topping, but not chalky dry.  I think 190 grams of pastry flour might work well too.
Peanut Butter -- use a really tasty mainstream one with sugar and salt.  I've used Reese's and my latest favorite, Peanut Delight No-Stir Creamy from Aldi, which is surprisingly good.  Aesthetically, creamy is best. However, you can use chunky if you commit to decorating with peanut butter cups and candies. The chunky just doesn't look as pretty by itself.
Semisweet or Dark Chocolate -- You can use whatever semisweet or dark you have, but I don't recommend chips as they will not melt as smoothly.  For my last batch I used my old standby, Trader Joe's Dark.  
Recipe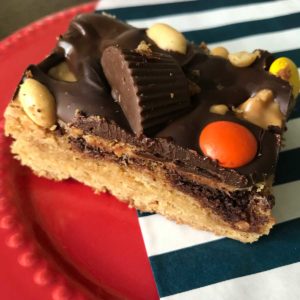 Marbled Peanut Butter Brownies
A stiff dough bakes into a firm yet moist brownie. Take a look at the notes on how to weigh or measure flour if you have trouble with dryness in bar cookies. When baking with peanut butter, it's really important to measure properly.
Ingredients 
1 ½

cups

all purpose flour

(190 grams)

1

teaspoon

baking powder

½

scant teaspoon salt

4

tablespoons

unsalted butter, softened

¼

cup

generous -- slightly heaping peanut butter

(70 grams)

1

cup

light brown sugar, firmly packed

(200 grams)

½

cup

granulated sugar

(100 grams)

2

large

eggs, at room temperature**

1

teaspoon

vanilla
Chocolate Swirl:
2

ounces

semisweet chocolate, chopped

1

tablespoon

unsalted butter
Peanut Butter Topping:
½

cup

peanut butter, creamy

(130 grams)

2

tablespoons

unsalted butter

melted

½

teaspoon

vanilla
Chocolate Swirl Topping:
1 ½ to 2

ounces

semisweet chocolate – one that melts nicely

if possible (Dove)
Instructions 
Preheat oven to 350 degrees F. Line a 9 inch square metal pan with foil and spray foil with cooking spray.

Thoroughly stir together flour, baking powder and salt. Set aside. If you don't have a scale be sure to measure your flour with a light hand or by spooning it into the cup.

In a mixing bowl, beat together butter, peanut butter and both sugars. Add eggs and vanilla and beat on low speed just until blended (do not whip). Add flour mixture, stir until incorporated, then spread in pan. To spread evenly, dampen your fingers with some water and tamp down on the batter to flatten.

Prepare chocolate swirl. Melt chopped chocolate and butter together in the microwave on high stirring every 30 seconds. Drop by spoonfuls on top of peanut butter batter and drag a knife through the batter to marble. The chocolate mixture will be sitting on top of the batter and sinking in a little.

Bake on center rack for 25 minutes or until edges appear brown and center appears set. Do not overbake.

Allow the bars to cool slightly while you make the peanut butter topping. To make the peanut butter topping, stir together peanut butter and melted butter. Spread this mixture over the warm (not piping hot, not cool) brownies. Let cool for about half an hour.

Prepare Chocolate Swirl. Put chocolate in a heavy duty freezer bag. Microwave the bag for 30 seconds. Knead it with your hands to melt chocolate. Repeat, microwaving another 30 seconds and kneading bag, until chocolate is completely melted. Make sure there are no lumps. Snip a tiny hole in bottom corner of bag and drizzle chocolate decoratively over peanut butter. Or skip the bag, melt the chocolate in a custard cup and splatter across top with a spoon.

Decorate with peanut butter cups and candies if you want -- especially if you used crunchy peanut butter.

Put the brownies in the freezer for about 10 minutes or just until chocolate drizzle is set.

When set, lift from pan and slice brownies in to squares or bars. If they're too firm to slice, let them sit at room temperature Let come to room temperature before eating. Store covered and at room temperature for softer brownies.
Notes
Based on the comments ranging from excellent to dry, I'm adding a few notes to help you along.
1. Use mainstream peanut butter such as Skippy or Jif Natural, Reese's, etc.
2. Make sure your baking powder is fresh.
3. Measure your flour properly. If it's still in the sack, dump it out and stir it to aerate. If you have a scale, weigh out 6.75 ounces or 190 grams.  I also recommend using bleached flour.   Pastry flour might work as well, though I haven't tested it.