The exact origin of this recipe for Oatmeal Sandwich Cookies is unknown, but it's definitely an older one, as it calls for shortening in the filling. It's posted on a few recipe sites including Taste of Home, where they have a good photo and some reviews.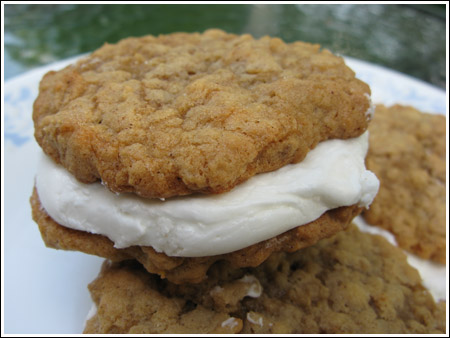 .
Shortening Pros and Cons
The cookies are excellent -- soft, flavorful and attractive. Unfortunately they're made with quite a bit of shortening. Shortening has its pros and cons, but I like recipes where it's used in smaller amounts or combined with a little butter. On the other hand, this recipe is inexpensive and the shortening keeps the filling, which does not call for vanilla, snowy white in color. The cookies also hold up well and would be good in a bake-sale situation.
Oatmeal Sandwich Cookies
2-¼ cups flour (scooped – about 11.5 oz)
2 tsp. ground cinnamon
1-½ tsp. baking soda
1 tsp. salt
½ tsp. freshly ground nutmeg
1-½ cups shortening
2-⅔ cups brown sugar
4 large eggs
2 tsp. vanilla
4 cups old-fashioned oats
FILLING:
¾ cup shortening
3 cups powdered sugar
7 oz. jar marshmallow creme
1-3 Tbs. milk
In a mixing bowl, cream shortening and brown sugar. Add eggs, one at
a time, beating well after each. Beat in vanilla. Combine flour,
cinnamon, baking soda, salt and nutmeg; add to creamed mixture. Stir
in oats. Drop by rounded teaspoonfulsapart onto lightly greased
baking sheets. Bake at 350 for 10-12 minutes or until golden brown.
Remove to wire racks to cool.
Filling:  Cream shortening, sugar and marshmallow creme. Add enough milk as needed to achieve a fluffy consistency. Spread filling on the bottom of half of the cookies; top with remaining cookies.
Makes about 4 ½ dozen, depending on how big you make the cookies