It's my fifth day as a puppy owner and things are going pretty well. Lizzie's a great dog. Her only bad habit is biting feet and fingers, which I'm trying to control by saying "Ouch" a high pitched puppy voice. From what I've read, puppies are supposed to learn not to nip from their mom and litter mates, but young puppies who've been removed too soon may need extra training. So between teaching my puppy not to bite toes and following her around with potty training pads, I'm kind of behind on baking. Luckily, Fuzz will be home tomorrow and I'll have a puppy care assistant.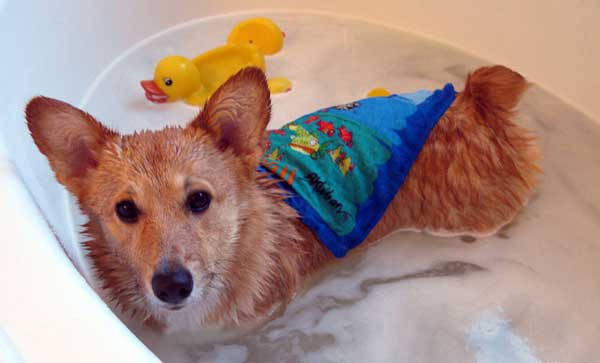 As for today, I'm posting a an English Toffee Bars recipe Sue posted in the comment section. Erin had mentioned an illustrator named Tasha Tudor, and Sue just happened to have the Tasha Tudor Cookbook.
Sue made these yesterday and said they were pretty good. I'm holding out until I can get some really good chocolate.
English Toffee Bars
2 sticks (8 oz) unsalted butter, softened
1 cup light brown sugar
1 egg yolk, room temperature
2 cups unbleached all purpose flour
8 oz good chocolate, chopped up
½ c. English walnuts, chopped
Preheat the oven to 350 degrees. Grease a 9×13 inch baking pan.
Cream together the butter, brown sugar, and egg yolk. Stir in the flour and mix well. Spread the dough evenly over the prepared baking pan.
Bake for 15 minutes until lightly browned. Immediately cover with chocolate bits. When the chocolate has melted, spread it with a knife and sprinkle with chopped nuts. Score and cut while still warm.