Mrs. Baron's Double Chocolate Cookies are from a teacher who loves to bake. I'll update the post next time I make a batch. It's been a while.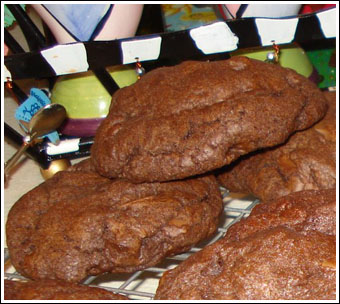 Mrs. Baron's Double Chocolate Cookies
8 ounces unsalted butter (2 sticks), softened
1 cup granulated sugar
1 cup light brown sugar
2 large eggs, room temperature
2 teaspoons vanilla
3 cups flour
⅔ cup unsweetened baking cocoa 
½ teaspoon baking soda
1 scant teaspoon salt (omit if using salted butter)
½ cup milk chocolate chips
1 ¾ cup semisweet chocolate chips
Preheat oven 350 degrees F. Line a couple of cookie sheets with parchment.
Cream butter and both sugars in a large mixing bowl using an electric mixer. Add the eggs and vanilla and beat until blended.
Thoroughly stir together flour, cocoa, baking soda and salt. Add to egg mixture and stir until it is almost blended in. Add the chocolate chips and stir until flour mixture is absorbed.
Using about a quarter cup measure, drop cookies onto cookie sheets spacing 2 ½ inches apart. Bake for 16 minutes or until they appear set. Let cool on cookie sheets for 5 minutes, then transfer to racks to cool.
Makes about 24 big cookies
(Note: You can also make them smaller, of course)