Happy Father's Day Weekend! I'm working on a Black Forest Cake, but it's one of those things you have to build in steps and will not be done until this evening. So for now, here's a cookie recipe.  It's called Jessica's Marshmallow Clouds.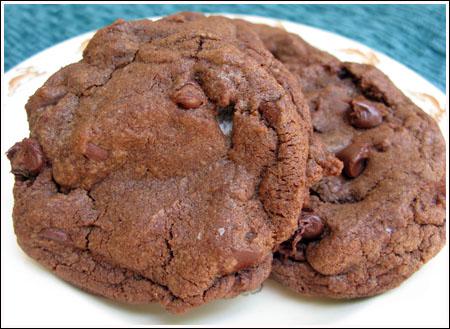 I don't know who Jessica is, but I think she might be one of Mrs. Fields' kids since the recipe is from Mrs. Fields. These were easy to make and baked up big, fat, soft, and chewy. The trick (as I found out) is to seal the marshmallows in the dough, otherwise, the cookies will burst open in the oven and the marshmallows will over-cook and get too sticky. It's a good idea to use parchment or non-stick foil when making these, as they are sticky.
Jessica's Marshmallow Clouds
3 cups all purpose flour, aerate and stir well before measuring
½ teaspoon baking soda
¾ teaspoon salt
⅔ cup unsweetened natural cocoa powder
2 sticks (8 oz) unsalted butter (soft)
1 cup granulated sugar
1 cup brown sugar, packed
2 large eggs
2 teaspoons vanilla extract
2 cups semi-sweet chocolate chips
8 oz mini marshmallows, frozen** (I don't think I used a full 8 oz)
Preheat oven to 350 degree F. Line a couple of cookie sheets with parchment.
Mix flour, baking soda, salt and cocoa powder together in a medium bowl. Set aside.
Cream butter and both sugars. Beat in eggs and vanilla. Add flour mixture to butter mixture and stir until blended. When ready to bake, mix in the chocolate chips.
Hold 4 or 5 frozen marshmallows in the palm of your hand. Scoop batter up by generously rounded tablespoonfuls and mold around marshmallows, covering marshmallows the best you can.
Place dough balls on cookie sheets, spacing about 2 ½ inches apart. Bake for 12 minutes. Cool on cookie sheets for about 5-10 minutes, then transfer to a wire rack to cool. They firm up a bit as they cool
Makes about 3 ½ dozen
**Make sure you freeze the marshmallows before using, otherwise they will melt