After dinner -- and sometimes during, we all pull out various literature and read together in silence. Todd likes reading his stamp magazine, Fuzz looks at old Oriental Trading catalogs and I go through cooking magazines. Last night I was looking through an Old Taste of Home and found "Back to School Cookies".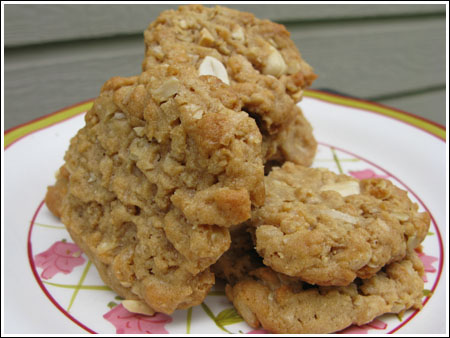 The picture caught my eye, but I also liked the snappy name "Back to School Cookies". School doesn't start for another couple of months, but I felt compelled to make the cookies anyway. The ingredients looked interesting. Instead of two eggs, the recipe calls for 4 egg whites. It also calls for Rice Krispies, flaked coconut and oatmeal – a combination you don't see often in peanut butter cookies.
This morning I made a quarter batch and was very happy with the results. The cookies are flavorful, light and crispy. The only change I made was to use peanuts instead of nuts because with peanut butter cookies, I like sticking to "peanut" theme.
The original recipe said the yield was 12 dozen for cookies scooped with a rounded tablespoon. I used a generously rounded teaspoonful and got fewer than 2 dozen cookies, so the yield will probably be more like 8 dozen if you make the whole batch.
Peanut Butter Coconut Krispie Cookies (adapted from "Back to School Cookies"– From Taste of Home)
2 cups all-purpose flour
1 teaspoon baking soda
½ teaspoon baking powder
¾ teaspoon salt (original recipe had none)
8 oz butter flavored shortening
1 cup creamy peanut butter
2 cups packed brown sugar
4 egg whites
1 teaspoon vanilla extract
2 cups crisp rice cereal
1-½ cups chopped nuts or 1 ¼ cup chopped peanuts
1 cup flaked coconut
1 cup quick-cooking oats
Preheat oven to 375 degrees F.
Mix together flour, baking soda, baking powder and salt; set aside.
Cream the shortening, peanut butter and brown sugar in a large mixing bowl until light and fluffy. Beat in egg whites and vanilla.
Add the flour mixture to the creamed mixture and stir until mixed, then stir in the cereal, nuts, coconut and oats.
Drop by generously rounded teaspoonfuls 2 in. apart onto ungreased baking sheets. Flatten with a fork, forming a crisscross pattern. Bake at 375° for 8-10 minutes. Remove to wire racks.
Makes about 8 dozen