A while back I took Fuzz to a playgroup. Instead of the usual Goldfish crackers and fruit, the hostess had made a batch of really crispy oatmeal cookies using a recipe given to her by her mom. She didn't have the recipe in front of her, so she ran down the list of ingredients out loud. When I got home, I looked it up to find it was this one.
My only issue with the recipe is that it had a full cup of shortening and I prefer butter. Not wanting to sacrifice the great texture that shortening adds, I made the cookie with half butter flavored shortening (regular would be fine too) and half butter. The cookies were very good. I think the full shortening version might be a little crunchier, but half & half was a good compromise.
If you Google Oatmeal Crispies, you'll get this recipe with slight variations – usually, it's made with 1 cup of shortening instead of the shortening butter mix. Some people add coconut, others use chocolate chips and of course some people leave out the nuts. I made mine like this. Oh, then I put them in a bucket.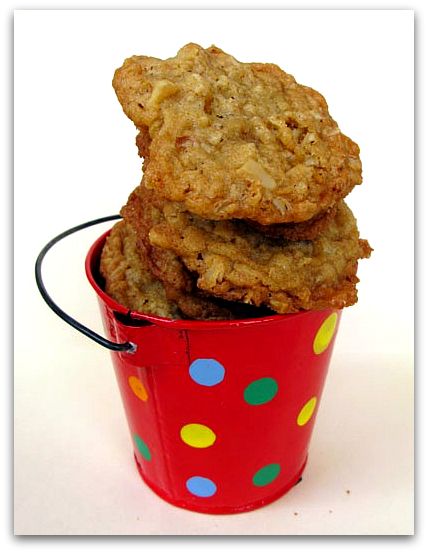 Oatmeal Crispies
½ cup shortening
½ cup butter, softened
1 cup packed brown sugar
1 cup white sugar
2 eggs
1 teaspoon vanilla extract
1 teaspoon salt
1 teaspoon baking soda
1 ½ cups all-purpose flour
3 cups quick cooking oats
1 cup chopped walnuts
Cream the shortening, butter, and both sugars in a large mixing bowl. Beat in eggs and vanilla. When well blended, add the salt and baking soda and stir very well, making sure everything is well distributed. Stir in the flour, followed by the oats and nuts.
Shape into two long rolls and wrap rolls in waxed paper. Chill until firm. Slice dough into ¼ inch slices and place on ungreased cookie sheets – preferably non-insulated for extra crispness. Bake at 350 degrees F for 10 minutes. Let cool on cookie sheets for 5 minutes, then transfer to a wire rack to cool.
Makes about 60