Putting chipotle with peanut butter is not a new idea, but I'd never seen Peanut Butter Chipotle Cookies, so I decided to make a quick batch last night using my very favorite peanut butter cookie recipe as a base. The results were fantastic and maybe even a little addictive for those of us who like heat.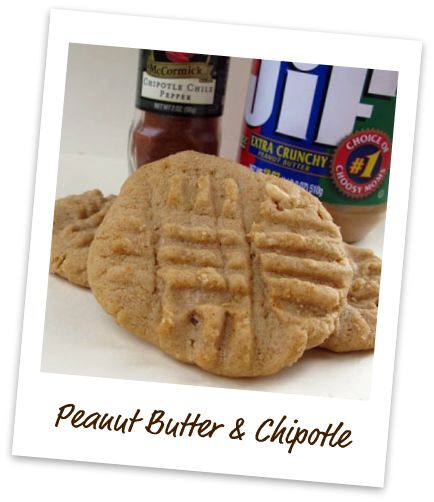 With these cookies, the kick of chipotle doesn't come until the end. It starts with a mild but pleasant burning and leaves in a trail of smoke…..or smoky taste, that is. I absolutely loved the cookies, and in an attempt to make them even more interesting, I added some white chips. The white chips are great, but you could stick with peanut butter chips if you like.
Definitely try these! If you are unsure or don't quite trust me, you can make a batch of the dough, take out a fraction of it (say, a quarter) and add ⅛ teaspoon of chipotle to that section of dough. If you don't like it, you won't have wasted much dough. If you do like it, you might find it addicting.
Peanut Butter Chipotle Cookies
½ cup unsalted butter, softened
½ cup dark brown sugar, packed
½ cup granulated sugar
1 cup peanut butter, smooth or chunky
1 egg
½ teaspoon chipotle powder
½ teaspoon salt
½ teaspoon baking soda
½ teaspoon vanilla
1 ½ cups sifted flour (6 oz) – (You can skip sifting if you weigh the flour)
½ cup Ghirardelli white chips (or just use peanut butter chips)
Preheat oven to 350 degrees F. Have ready an ungreased cookie sheet – preferably uninsulated.
Cream the butter and both sugars. Beat in the peanut butter and egg; Scrape sides of bowl and beat in the chipotle, salt, baking soda and vanilla. When well blended, add flour and stir until it is blended. Stir in the chips.
Shape dough into 1-inch balls and place on cookie sheets about 2-inches apart. Flatten balls with a fork making crisscross patterns; Bake for 10-12 minutes or until slightly browned around the edges.
3 ½ to 4 dozen