This recipe was inspired by my new email friend, Sophia. She's a teenage cook who has been doing a lot of baking lately for her friends and family. Recently, Sophia's mom mentioned an old recipe from childhood where chocolate gets rolled up pinwheel style inside peanut butter cookie dough. Sophia asked if I had any recipes for this type of cookie, but I didn't. I did find one that sounded good, though. Sophia tried it and gave the cookies a big thumbs up.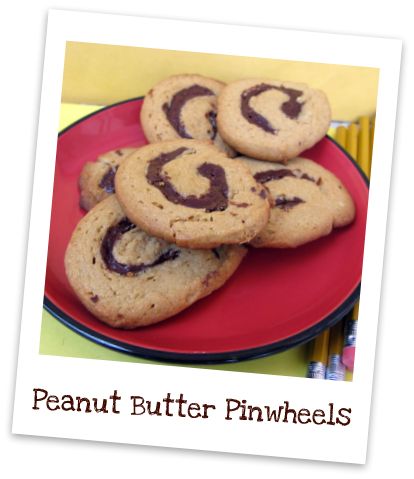 Sophia tried the recipe, so of course I had to as well. They're excellent! They're sturdy enough to pack in a lunch box and pretty enough to serve at a luncheon or cookie exchange. In fact, if you see a cookie exchange in your future, you might want to bookmark this.
Peanut Butter Pinwheels
2 sticks (8 oz) unsalted butter
1 cup packed light brown sugar
1 cup creamy peanut butter
1 teaspoon vanilla extract
1 large egg
1 teaspoon baking soda
¾ teaspoon salt (original recipe called for ½)
2 cups all purpose flour
Fillling:
2 teaspoons butter
6 oz semi-sweet chocolate, chopped
Cream butter and sugar. Beat in peanut butter, vanilla and egg. Add baking soda and salt, stir until well distributed, then add flour and stir until it is absorbed. Chill dough for 45 minutes (no longer).
Meanwhile prepare the filling. Melt chocolate with butter in a bowl over hot (not boiling) water. Let cool slightly
Divide chilled dough in half. On a lightly floured surface roll each half into 10 X 8 inch rectangle and spread each rectangle with half the chocolate mixture, stopping about ½ inch from sides.
Starting from long side roll up each rectangle jelly roll style to form 2 long rolls. Wrap separately seam side down in plastic wrap. Chill until firm (at least 3 hours)
Using a sharp knife, cut into ¼ inch slices. Place 1 ½ inches apart on a lightly greased baking sheet. Bake at 375 degrees for 10-12 minutes of until lightly browned. Transfer to wire rack to cool.
Makes about 32