This recipe is originally from The Baking Blonde. She calls these Chocolate Shock Cookies, which is such a great name! Anyhow, I wanted my cookies to be a little different so I used a mixture of espresso powder, chipotle powder and pretzels. The cookies were great. The pretzels stayed surprisingly crunchy all day long.
With the 72% cacao bean chocolate, the cookies certainly lived up to their name, but I think the 52% chocolate would be just as good.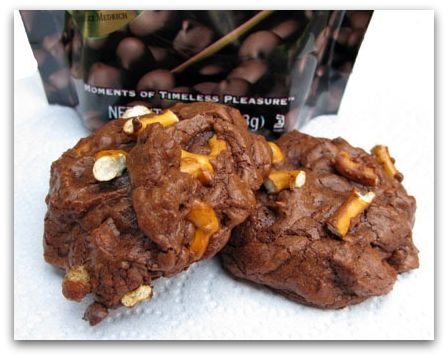 Chocolate Shock Cookies
8 oz. bittersweet chocolate disks (Ghirardelli 72% cacao or 58%)**
4 tablespoons unsalted butter
⅔ cup all-purpose flour (3 oz)
½ teaspoon baking powder
½ teaspoon salt
¼ (generous) teaspoon chipotle powder
½ teaspoon instant espresso powder
1 cup light brown sugar, packed
2 large eggs
1 tsp vanilla extract
2 cups semi-sweet or dark chocolate chips OR chunks
½ cup miniature pretzels, broken into little pieces of about ⅓ inch (use more if desired).
Don't preheat oven quite yet because dough requires chilling.
Melt chocolate and butter together in a metal bowl set over barely simmering water. You could also do this in the microwave – use a low power so that the chocolate melts slowly and doesn't get as hot. Let chocolate cool.
Whisk together flour, baking powder, salt, espresso powder and chipotle in a small bowl.
Beat eggs, brown sugar, and vanilla in a mixing bowl with an electric mixer until fluffy. Reduce speed to low and slowly add the cooled melted chocolate mixture. Add the flour mixture and stir until mixed. Make sure the dough is sufficiently cool (if you used warm chocolate, it might not be) then add the chocolate chips and pretzel pieces.
Chill dough for 30 minutes.
Preheat oven to 350 degrees F.
Drop dough by tablespoons onto prepared baking sheet. Bake 10-13 minutes or until tops are shiny, center is soft but edges are set. Do NOT overbake. Allow to cool on sheet for 5 minutes before transferring to rack to cool completely.
Note: I baked mine for 10 minutes.