Is it just me or does today feel like a Thursday?
Anyway, it's Wednesday and I'm home alone where it is really quiet because my dog is at the vet getting spayed. Poor Lizzie!
To get my mind off Lizzie and the puppies she won't be having, I decided to try a chocolate version of the hard boiled egg cookie. It worked on the first try. I love it when that happens! You can test it this way and then tamper with it all you want after that, but I thought this version was pretty good. The Double Chocolate Hard Boiled Egg Cookies were dense and soft with crispy edges. The cookie part was a good contrast to the chocolate chunks which is my way of saying the cookies weren't too fudgy but more cookie-like. I used Ghirardelli's new 58% baking chocolate – the type that comes pre-formed as discs even though it's not the same as chocolate chips. If you can't find that, you can use any good chopped chocolate or a really good chocolate chip.
Here's a photo of the cookie. Sorry the cookie isn't whole, but I had to eat some of it to make sure it was worthy of being posted.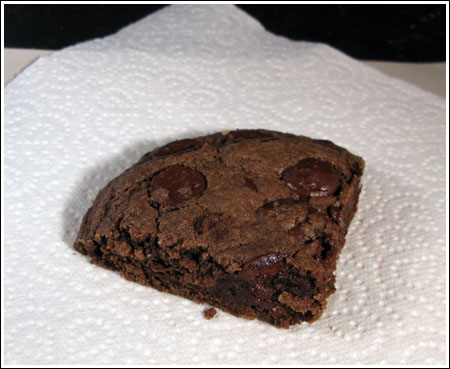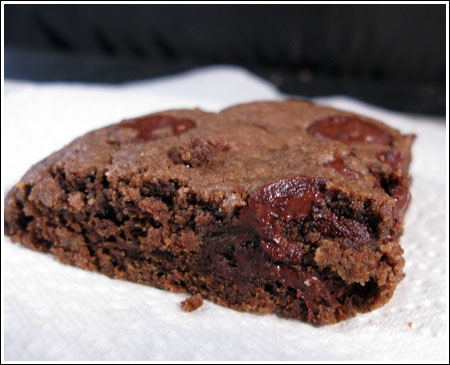 Amazing Double Chocolate Hard Boiled Egg Cookies
3 oz bleached flour (⅔ cup)**
2 tablespoons natural unsweetened cocoa powder
2 oz unsalted butter,cold, cut up (I used European style butter)
¼ scant teaspoon salt
⅛ teaspoon baking soda
4 tablespoons granulated sugar
1 packed tablespoon light brown sugar
½ of a hard boiled egg
¼ teaspoon vanilla extract
1 tablespoon regular sour cream
½ cup good quality chopped chocolate or Ghirardelli bittersweet chocolate chips – (I used the new 58% cacao Ghirardelli baking chocolate discs).
Preheat oven to 350 degrees F.
In bowl of food processor, pulse flour, cocoa and butter until coarse and mealy. Add salt and baking soda and pulse again to mix. Add both sugars and egg and pulse until mealy, then add the vanilla and sour cream and pulse to mix. Dump into a bowl and stir or mash in the chocolate pieces.
Shape the dough into two big balls -- it should stick together easily. The balls will look gross and have flecks of egg white and maybe yolk – don't be alarmed. Bake on parchment lined insulated baking sheet for 20 minutes. Let cool on cookie sheet for about 5 minutes then transfer to a rack to cool completely. These cookies are best dealt with once completely cool.
Makes 2 large cookies
**I'm using bleached flour for a reason. That reason is, I read that some recipes rise better with bleached flour because its protein content is often lower than unbleached. If you only have unbleached or don't like the idea of using bleached, go ahead use unbleached. I will try unbleached as well, but haven't gotten around to it. My initial goal was as much rise as possible.