When I was little, my mom made a fresh pumpkin pie using the guts of a Jack-o-Lantern. I didn't like pumpkin much to begin with and that pie turned me off to it completely. Years later, I tried pumpkin pie again; this time, from a typical recipe using canned pumpkin. Thanks to its mild flavor and the fact that the pie was made by a very good baker, I was on my way to liking pumpkin.   I still don't love pumpkin or any type of squash and  I still rely on canned pumpkin for all my recipes.  But I have a feeling there are some amazing fresh pumpkin pie recipes out there and I'm missing out. One day, I'm going to try one. But here's what I know.
1) Use a "pie pumpkin" not a Jack-o-Lantern pumpkin
2) Don't include the guts in your pie. Scrape it out, clean it off, bake or steam, then puree
Here's a how-to with photos. It's that time of year, so I suppose you'll find more using Google.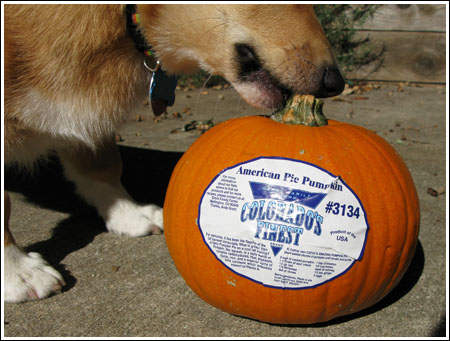 Also, here's a recipe that was on the sticker of the pie pumpkin I bought this morning (I bought it to paint, not bake….another story).
Fresh Pumpkin Pie
2 cups cooked pumpkin (Steam and puree)
1 ½ cups sour cream
½ teaspoon salt
1 tablespoon molasses
Dash cloves
1 teaspoon cinnamon
½ up honey
Dash nutmeg
½ teaspoon ginger
2 large eggs
Preheat oven to 350 degrees F. Mix all ingredients in a bowl. Pour ingredients into a pie shell. Bake for 1 hour.