The Jacques Pepin Chocolate Chunk Cookies recipe is an old one I found years ago on the back of a bag of Scharffen Berger chunks. Unfortunately I haven't seen the chunks in grocery stores as of late, but I'm sure there are ways to get them. In any case, you can make the recipe with your favorite chopped chocolate or even chips
Old Post With Recipe From Bag
Today's cookie is from the back of a bag of the new Scharffen Berger Baking Chunks, a product my grocery store started selling a few weeks ago. I hope they keep them on the shelves because I'm becoming addicted.
The baking chunks come in semi-sweet and bittersweet. I've been buying the semi-sweet, which includes this recipe from the great chef Jacques Pépin.
These cookies are very simple to make and the chocolate dough makes a great backdrop for the excellent chocolate chunks. I made the dough in a food processor as directed, but I don't see why you couldn't make it in a regular mixing bowl – just cream the butter & sugar first.
Recipe below.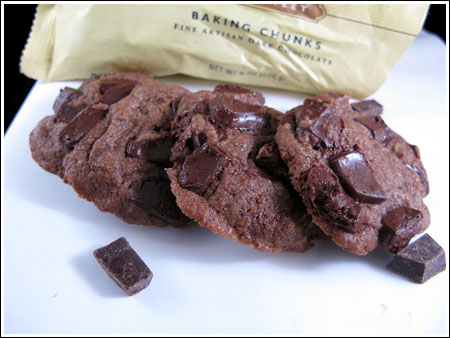 Note: Due to my misunderstanding of the recipe, I didn't roll the log of dough in a tablespoon of sugar…..I just mixed all the sugar in. Nothing bad happened.
Jacques Pépin Chocolate Chunk Cookies
4 oz unsalted butter, I used European style
2 egg yolks
½ cup granulated sugar (100 grams)
1 cup all purpose flour (127 grams)
¼ teaspoon sea salt (I actually used scant ½)
2 tablespoons unsweetened cocoa powder (10 grams)
½ cup baking chunks (I used more)
Set aside chunks and 1 tablespoon of sugar**(see rant). Mix remaining ingredients in food processor for 30 seconds or until smooth. Transfer dough to a sheet of plastic wrap and roll (or shape) it into a 10 inch log about 1 inch thick (my log was scraggly, but looked better after it chilled). Chill 1 hour.
Preheat oven to 350 degrees F. Put rack in center. Unwrap cold log and sprinkle evenly with remaining tablespoon of sugar. Cut log into 20 cookies each about ½ inch thick. Spread chunks on board and press each cookie into them (I pressed chunks into the cookie, but I like to do things backwards). Line a cookie sheet with parchment and arrange cookies 1 inch apart chunks facing up. Bake 14-15 minutes. Cool on rack.
**(rant) I wish the recipe said to set aside 1 tablespoon of *the* sugar so people would know the 1 tablespoon of sugar was coming from the ½ cup. But the recipe just says to set aside chunks and 1 tablespoon of sugar. So I'm assuming they meant out of the ½ cup, as there's no listing in the ingredient list for an extra tablespoon of sugar. I also wish they'd listed the ½ cup chunks at the top since the directions say to set them aside.