I was excited about making the Cherry-Nut Mudslides from Food & Wine, but when I took a closer look at the recipe, I realized I'd be spending at least $20 on chocolate alone. If the cookies were for a special occasion, that would be been okay, but they're not. They're just for me and whoever happens to be around, so to cut costs I split the recipe in half and made a few minor changes.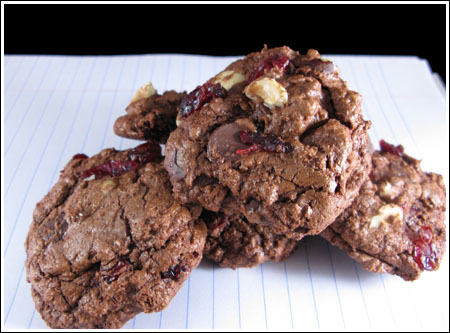 The Mudslides were excellent and well-named. They have a scraggly shell, but are fudgy and delicious on the inside. I tested some of the dough with almonds and used hazelnuts for the rest. The almond chunks weren't that great, but the hazelnuts were excellent, so stick with those. Walnuts or pecans might work as well, but I don't recommend almonds here. Oh, and I left out the pistachios completely.
Mine came out a little thicker than Food & Wine's. I think it's because I baked them on an insulated cookie sheet, but am not sure. They were good that way.
Cherry-Nut Mudslides Recipes
Cherry-Nut Mudslides (Based on JT recipe in Food & Wine)
½ pound bittersweet chocolate, chopped
3 ounces unsweetened chocolate, chopped
⅓ cup all purpose flour, spooned & leveled (1 ½ oz)
1 ¼ teaspoons baking powder
½ teaspoon plus ⅛ teaspoon salt
3 tablespoons unsalted butter, at room temperature
1 cup plus 2 tablespoons granulated sugar
2 ½ large eggs (that's 2 eggs, plus about 2 tablespoons beaten egg)
1 ¼ cup bittersweet chocolate chips or use a half pound chopped chocolate
¾ cup roasted hazelnuts, chopped, skins removed
⅓ cup chopped dried cherries (more or less)
Preheat oven to 350 degrees F. Line a couple of cookie sheets with parchment paper.
In a metal bowl set over a pan of simmering water, melt the ½ pound of the bittersweet chocolate with all of the unsweetened chocolate. Let cool.
In a small bowl, stir together the flour, baking powder and salt.
Beat the butter with an electric mixer until creamy. Beat in the sugar until sandy. Beat in the eggs, then beat in the cooled melted chocolate. Add the flour mixture and stir with a wooden spoon until it is absorbed. Fold in the chocolate chips, nuts and dried cherries. Note: Make sure the dough is cool before you add the chocolate chips. It for some reason it's too soft, let it stand for a few minutes or chill a bit.
For each cookie, scoop up 2 tablespoons of dough and shape into balls. Place on parchment-lined baking sheets, spacing about 2 ½ inches apart, Bake one sheet at a time for 15 minutes or just until the tops are lightly cracked; Transfer the sheets to racks to cool slightly, then transfer the cookies to a rack. Serve warm or at room temperature.
Yield – I got about 24 cookies, so I guess mine were a little bigger than F&W's