Originally from Maida Heatter, I got the recipe for Skinny Peanut Wafers from my friend Karen, who always picks good ones.  This one's no exception. It was published in the September 2000 issue of Food & Wine which also features Maida's super famous Chocolate Whoppers. The Skinny Peanut Wafers don't sound as enticing as the chocolate Whoppers, but they are very tasty cookies that might remind you of peanut brittle in cookie form.
Unfortunately I had to alter the bake time and temp significantly. The original recipe says to bake the cookies at 400 degree F for 15 minutes. Well, I did that and my cookies were charred. 12-15 minutes at 375 is what worked for me. You might want to do a test batch at 400 and check at 10 minutes, but I prefer lower temps.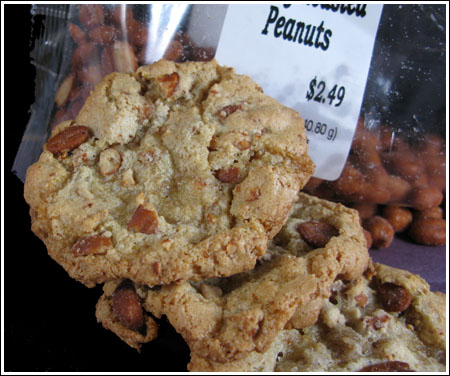 Skinny Peanut Wafers
3 cups honey roasted peanuts ( you probably wont use them all)
1 cup granulated sugar
1 cup sifted all purpose flour (sift then spoon and sweep – about 4.15 oz)
½ teaspoon baking soda
1 large egg
2 tablespoons milk
2 tablespoons unsalted or salted butter, melted and cooled
Preheat oven to 375 degrees F. Line a couple of cookie sheets with parchment. Maida used foil, shiny side up.
Process 1 cup of the peanuts with ¼ cup of the sugar until the nuts are finely chopped and some or coarsely chopped.
Mix together flour and soda, set aside.
Beat egg, milk and butter in a large bowl. Stir in flour mixture and chopped peanut/sugar mixture and remaining ¾ cup sugar.
Spoon batter up by generously rounded tablespoonfuls and place about 3 inches apart on prepared cookies sheets. Press about 1 tablespoon of remaining nuts in top of cookies.
Bake the cookies 1 sheet at a time on middle rack for about 12-15 minutes, turning the sheet front to back halfway through baking. Slide the parchment onto a wire rack and let the cookies cool completely. Bake the remaining cookies. When they are cool, invert the cookies and remove from parchment (or peel off foil).
Makes about 2 dozen.