Cappuccino-Toffee Cookies are based on a recipe from Reynold's parchment paper. And trust me, if you make these you will want to line your cookie sheet. The cookies are delicious and pretty, but the topping of chopped chocolate, toffee chips and sliced almonds tends to slide.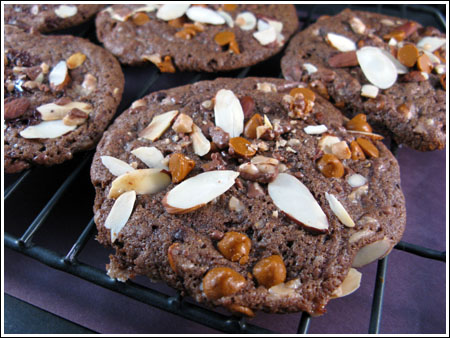 Below is a half batch version with a couple of modifications. I used unsalted butter, adjusted the salt and used cinnamon chips instead of chocolate chunks. I also gave the cookies a new name to distinguish them from the original Coffee-Toffee Cookies.
Cappuccino-Toffee Cookies
1 ¼ cups flour
¼ cup natural unsweetened cocoa powder
½ teaspoon baking soda
½ scant teaspoon salt
4 oz unsalted butter
½ cup packed brown sugar
¼ cup granulated sugar
1 tablespoons instant coffee
1 tablespoon milk
1 egg
1 teaspoons vanilla extract
½ of an (8 oz.) package toffee bits, divided (about 1 cup total)
½ cup semi-sweet chocolate chunks OR cinnamon chips
⅓ cup sliced almonds, toasted
Preheat oven to 350°F. Line 2 cookie sheets with parchment paper; set aside.
Combine flour, cocoa, baking soda and salt in a medium bowl. Set aside.
Beat butter and both sugars together in a large bowl until light and fluffy. Dissolve instant coffee in milk. Beat in coffee mixture, eggs and vanilla.
Add flour mixture to creamed mixture and stir until mixed. Reserve about 6 tablespoons toffee bits; stir remaining toffee bits into dough. Drop by heaping tablespoons about 2-inches apart onto parchment-lined cookie sheets. Combine chocolate chunks, almonds and reserved toffee bits; set aside.
Bake 4 minutes. Remove from oven; press cookie flat with the back of a spoon. Sprinkle ½ heaping tablespoon almond-toffee mixture onto each cookie. Using the back of the measuring spoon again, lightly press topping into dough to form a larger round cookie.
Continue baking for another 8 to 9 minutes or until cookies are set. Do not over bake. Slide parchment with cookies onto a wire rack to cool.
Makes 15