I love perusing the bulk bins to see what's new. My latest spotting was miniature peanut butter cups – the tiny ones like you get in peanut butter cup ice cream. First I saw them at a store called Sprouts and later found them at H.E.B., so I guess they're catching on. And why wouldn't they? They're perfect for cookies, cupcakes, and just about anything involving a mini peanut butter cups chocolate theme.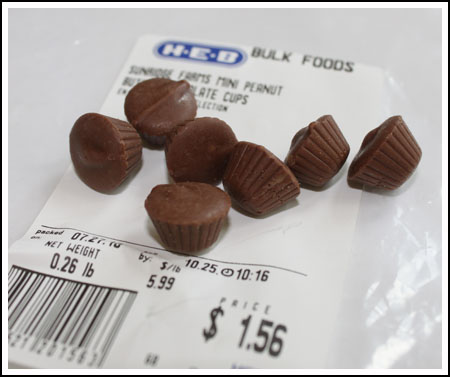 This morning I used them in these cookies, which also include toffee chunks. The recipe is adapted from an issue of Every Day Food that I can't throw away. Anyway, these were a great little snack. They're light, crispy on the edges, but tender. I'd say more, but I burned my finger and it hurts to type.
Mini Peanut Butter Cups Toffee Chunk Cookies
4 tablespoons unsalted butter, room temperature
½ cup granulated sugar
½ cup smooth peanut butter, I used a Natural type (Skippy)
¼ teaspoon vanilla
¼ teaspoon baking soda
⅛ teaspoon salt
1 large egg, room temperature, lightly beaten
¾ cups all purpose flour, spooned and level (a little over 3 oz)
⅓ cup miniature peanut butter cups
1 Heath toffee bar
Preheat oven to 350 degrees F.
Beat butter and sugar until light and creamy. Beat in the peanut butter and vanilla, scraping bowl often, then beat in the baking soda and salt. Reduce mixer speed to low or by hand, add the egg. By hand, stir in the flour. When flour is incorporated, add peanut butter cups and toffee bar.
Drop by tablespoonfuls onto parchment lined cookie sheet and bake 15-18 minutes. Let cool on a rack. Makes about 24.