This Red Velvet Cake with Cream Cheese Frosting is from Epicurious and was originally attributed to the late B. Smith. Like Martha Stewart, she began her career as a model then later transitioned to restaurateur. I was lucky to have met her back in the day, and she seemed like a wonderful and kind person, so I was excited to find her cake recipe on Epicurious. I've made it a couple of times since and we've always enjoyed it, but it's one of those cakes that's not fool-proof.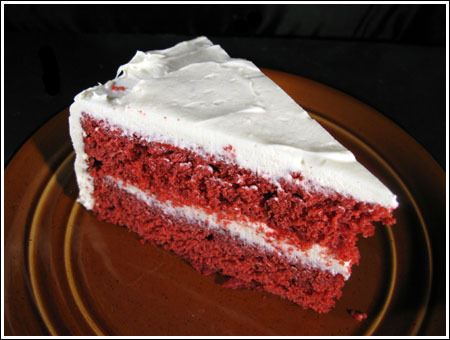 Half Cup or 1 Stick of Butter
This recipe only calls for 1/2 cup of butter, so you have to measure carefully and use the correct amount of flour — cake flour, to be precise. It's the same amount of fat as in the Waldorf Astoria copycat, but the fat happens to be butter rather than shortening, and butter is a little less fattier Other red velvet cake recipes contain a lot more butter, oil or a mixture of both, so with this one there is more of a chance it could be dry. However, if you use the right flour and measure properly, the texture should be like this. It's not dry.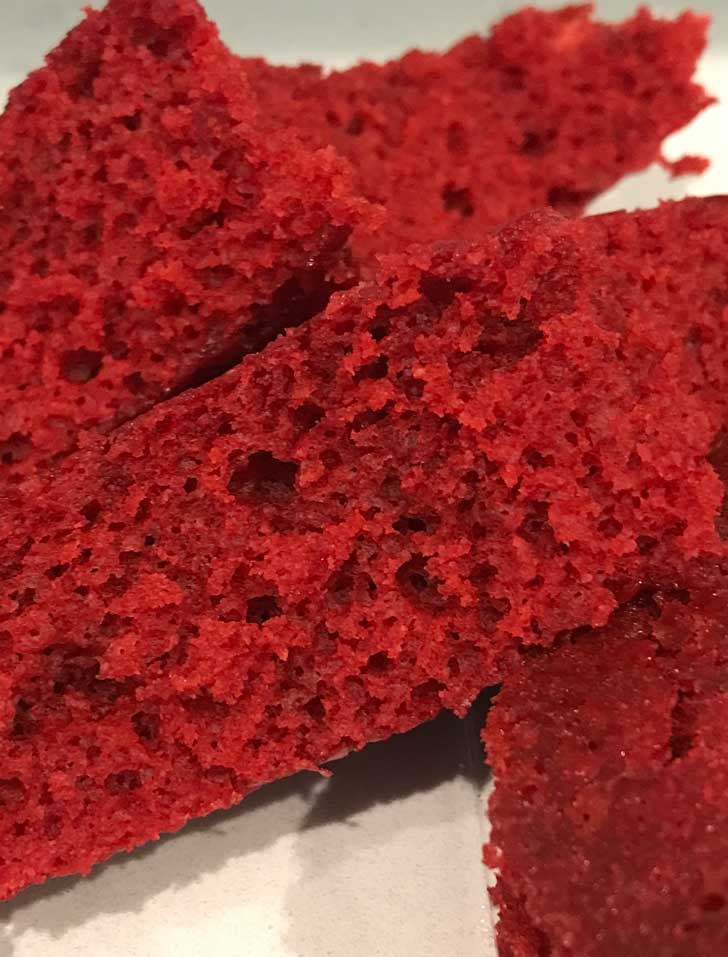 Baking Soda and Baking Powder
I've always used the full teaspoon each of baking powder and baking soda, but I think the cake might be better with 1/2 teaspoon of baking powder which is the amount used in Easiest Red Velvet Cake (which is fool-proof). I'll make a note when I test it with half the baking powder, but up until now I've just used the full amount.
B. Smith Red Velvet Cake Berries
The original recipe calls for 3 1/2 pints each (about 6 cups total) of blackberries and raspberries to be embedded between the cake layers and strewn on top. Back when I first made this cake blueberries and raspberries were more expensive (at least in Texas), so I opted to leave them out. But I think the berries might add even more moisture to the recipe. But again, per my latest test, this cake is not dry.
Best Cream Cheese Frosting!
The cake is a good one as far as red velvets go, but what's really good is the frosting. I've made a lot of cream cheese frostings, and this one is up there with the best of them. It has a higher proportion of cream cheese than butter so it really has a good cream cheese flavor. Plus it's not too sweet.
Here's the recipe based on the one in Epicurious. I plan to make it again soon with the blueberries and raspberries just to see if they make much of a difference. Again, I don't think they are critical to the success of the cake, but I think they'll help. Also, you shouldn't have to use a full 6 cups. It seems like 2 cups embedded in the center would be plenty to help with any moisture issues.
Recipe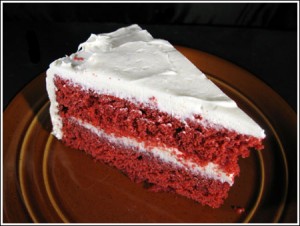 B. Smith's Red Velvet Cake
Based on a version that appeared in Epicurious. It's a good recipe if you use the right type and the right amount of flour. If you do not have a scale, sift the cake flour and then measure or just use 1 3/4 cups. If you do have a scale, weigh out 210 grams. Also, I feel like the baking powder amount in the original recipe is a little high compared to others. Next time I might try it with just 1/2 teaspoon.
Ingredients 
2 1/4

cups

sifted cake flour (210 grams, which would be about 1 3/4 cup unsifted

(210 grams)

2

tablespoons

natural unsweetened cocoa powder

1

teaspoon

baking soda

1

teaspoon

baking powder (I think 1/2 would work but haven't tested)

1/2

teaspoon

salt

1

cup

buttermilk at room temperature

2

tablespoons

red food coloring

1 oz bottle

1

teaspoon

vanilla extract

1

teaspoon

vinegar

1/2

cup

unsalted butter, softened

(114 grams)

1 1/2

cups

granulated sugar

(300 grams)

2

large

eggs
Frosting
16

ounce

cream cheese

room temperature

1/2

cup

unsalted butter, room temperature

1

tablespoon

vanilla extract

2 1/2

cups

powdered sugar
Berries
6

cups

berries, use a mix of rasberries and blueberries. I don't see why you couldn't throw in blackberries.
Instructions 
Preheat oven to 350 degrees. Spray two 9-inch round pans with flour added cooking spray or rub with shortening and dust with flour. The original recipe calls for 9 inch pans. I think 8 inch pans would work too.

Whisk together sifted cake flour, cocoa, baking soda, baking powder and salt; set aside.

In a measuring cup, mix together the buttermilk, red food coloring, vanilla and vinegar.

In a mixing bowl, beat the butter and sugar until creamy, scraping the bowl often. Beat in the eggs one by one.

Add the flour mixture and buttermilk mixture alternately.

Beat with an electric mixer until smooth, stopping to scrape the bowl.

Divide batter between pans and bake cakes on center rack for 25-28 minutes or until a wooden skewer inserted in center comes out clean. If using 8 inch pans, the cakes will probably take a little longer.

Cool in pans on racks 10 minutes. Turn cakes out onto racks and let cool completely.
Frosting
Beat cream cheese and butter in large bowl until smooth. Beat in vanilla. Add powdered sugar and beat until smooth.

To frost the cake, frost a layer and embed a mixture of fresh raspberries and blueberries in the frosting. Stack on the second layer. Frost the cake and arrange the rest of the berries decoratively.