Super Red Velvet Cake was inspired by one I saw at The Eleven City Diner in Chicago's Lincoln Park. Todd and I had lunch there this week, and while we were too full to order dessert, I admired their red velvet cake from afar and made a note to bake one as soon as I got home. Mission accomplished!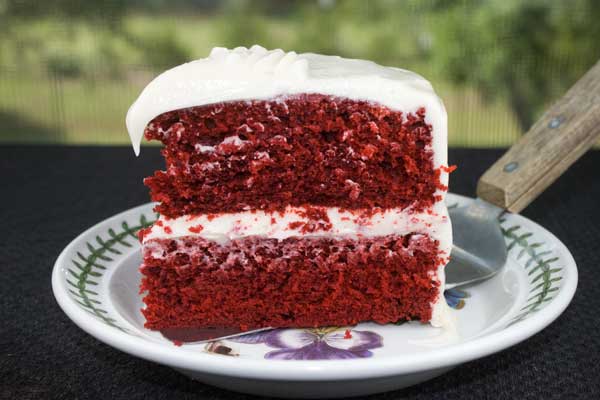 Two Kinds of Flour
I apologize for the fact this recipe calls for two kinds of flour. If you really want to make the cake but only have kind of flour, you can use 11 oz/308 grams of whichever type of flour you have. Using all cake flour will make the cake a little softer and less sturdy, and using AP will give you a sturdier and slightly flakier cake. And then there's the issue of what brands of flour you use, but at the end of the day it's not a huge deal. The most important thing is to measure by weight rather than volume.
Americolor Super Red
I also incorporated a new ingredient, Americolor Super Red. It's a soft gel paste that cake decorators use to make deep, fire engine red frosting. If you've ever tried making red frosting with other brands of gel coloring, chances are you went through several shades of pink before realizing it was difficult or impossible depending on the brand. But Super Red, which was recommended to me one day while I was shopping in our local cake decorating store, gets the job done. Plus I'm convinced it added a slightly pleasant flavor not unlike the flavor of  the H.E.B. bakery red velvet cake. It would make sense that a grocery store bakery that decorates lots of cakes would use this as their coloring, so who knows?
Recipe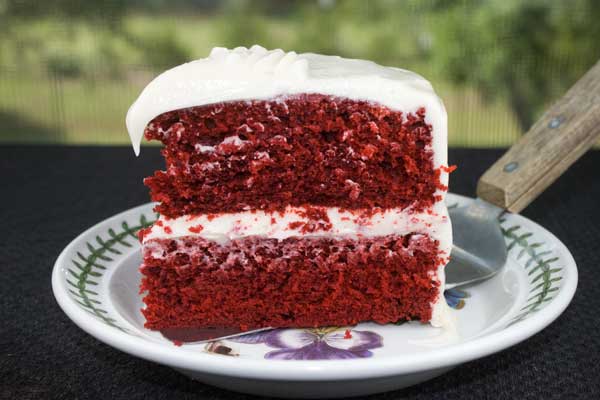 Red Velvet Cake with Cream Cheese Icing
An authentic three layer red velvet cake made with cream cheese icing.
Ingredients 
1 ½

cups

cake flour

6 oz

1

cup

all-purpose flour

5 oz**

1 ½

teaspoons

baking soda

½

teaspoon

kosher salt

Morton

1

cup

buttermilk

2

large eggs

1 ½

teaspoons

vanilla extract

1

tablespoon

apple cider vinegar

2

tablespoons

Hershey's natural unsweetened cocoa powder

2

tablespoons

red food coloring

"Super Red" if you can find it

1 ½

sticks

6 oz unsalted butter, softened

1 ½

cups

sugar
Cream Cheese Frosting**
16

ounces

cream cheese

softened

4

ounces

butter

softened

1

teaspoon

vanilla extract

2

cups

powdered sugar

plus more as needed
Instructions 
Preheat the oven to 350°F. Spray two 9 inch round pans with flour-added baking spray.

Stir together flour, baking soda and salt and set aside.

In a large measuring cup or bowl, whisk together milk, eggs, vanilla and vinegar.

In a very small bowl (I use a custard cup), make a paste with the cocoa powder and red food coloring.

In a stand mixer with the paddle attached, beat sugar and butter at medium-high speed, scraping bowl, for 3 minutes or until light and fluffy.

Reduce mixer speed to low and add the egg and flour mixture alternately beginning and ending with flour and scraping bowl.

Scrape the cocoa paste mixture into the batter and beat on low or by hand, scraping the bowl well, until fully mixed.

Spread evenly in pans and bake for 25 minutes or until a toothpick inserted in center comes out clean. Cool in pans on wire rack 10 minutes. Invert onto a cooling rack and let cool completely.

Beat cream cheese and butter in a large bowl with electric mixer on medium speed until blended. Gradually add powdered sugar until smooth. Beat in vanilla

Frost and stack the cakes.
Notes
For best results, weigh the flour. I used 11 oz total. Volume measurements are less accurate.
**This frosting has a strong cream cheese flavor and can be a little runny, but I love its tart flavor and smooth texture. For a sweeter, more traditional cream cheese frosting, use 8 oz of cream cheese, 4 oz of butter and about 3 ½ cups of powdered sugar.