If you bought some six inch round cake pans and are looking for ways to use them, here's a six inch red velvet cake with cream cheese icing recipe.  This cake is easy.  It's a traditional red velvet cake recipe with just the right amount of cocoa, plus a combination of buttermilk, oil and butter.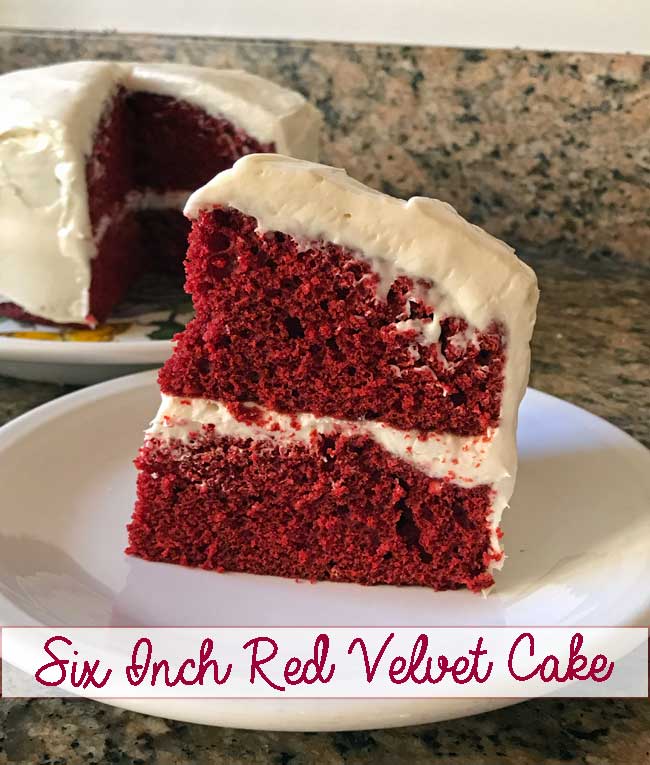 Six Inch Red Velvet Cake Ingredient Notes
Flour -- Use 150 grams all-purpose. The volume amount is approximately 1 ¼ cups, but I always measure with the scale and use 150 grams. I think 150 grams of cake flour would also work, but I've only tested this with all-purpose.
Cocoa Powder -- I use natural, but Dutch would probably be fine. The cake may be darker. I used to mix the cocoa powder with the red food coloring to make a paste, but I found that it really doesn't matter.
Buttermilk -- You can use regular buttermilk or the equivalent buttermilk powder (2 tablespoons of powder and ½ cup of water). If using buttermilk powder, add the powder with the dry ingredients and use ½ cup of water in place of the buttermilk.
Vinegar -- Apple cider and malt vinegar work well in Six Inch Red Velvet Cake, but you could get away with using white vinegar if that's all you have.
For the red food coloring, I use a product called Super Red which gives the cake a very vibrant red color.  If you can't find the Super Red, you can use red food coloring, but you may need to use a little more.
Espresso Powder as a Secret Ingredient?
I recently came across a very similar red velvet recipe with the secret ingredient of espresso powder. I've never tried espresso powder in Six Inch Red Velvet Cake but it sounds like a fun idea. I'll update next time, but if you try it let me know. You'd probably want to add only ¼ teaspoon at most.
Where to Buy Six Inch Pans
Here's a link to some six inch cake pans on Amazon.
Recipe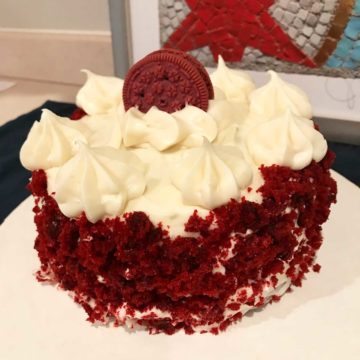 Six Inch Red Velvet Cake
Six Inch Red Velvet Cake is perfect for when you need enough cake for about six people.
Ingredients 
1 ¼

cups

all-purpose flour

(150 grams)

¾

teaspoon

baking soda

¼

teaspoon

salt

1

tablespoon

unsweetened cocoa powder

½

cup

buttermilk

1

large

egg

¾

teaspoon

vanilla extract

½

tablespoon

apple cider vinegar

or malt vinegar

½

tablespoon

red food coloring such as Super Red

(You may need up to 2 T. if using another brand)

5

tablespoons

unsalted butter, softened

(70 grams)

1

tablespoon

vegetable or canola oil

¾

cup

sugar

(150 grams)
Cream Cheese Frosting
4

ounces

unsalted or salted butter, softened

(114 grams)

8

ounces

cream cheese

softened (230 grams)

1

pinch

salt (if using unsalted butter)

1

teaspoon

vanilla extract

2-3

cup

powdered sugar
Instructions 
Grease two 6 inch round cake pans and line bottoms with parchment. Grease again and dust with flour.

Stir together flour, baking soda, salt and cocoa powder. Set aside.

In a large measuring cup or bowl, whisk together buttermilk, egg, vanilla and vinegar.

In a mixing bowl using an electric mixer, beat butter, oil and sugar at medium-high speed, scraping bowl, until light and fluffy. Reduce mixer speed to low and gradually add the egg/milk mixture. Mixture will most likely curdle, but it will smooth out after you add the flour mixture. Carefully add your red food coloring. Use enough so that you have a vibrant red.

Add flour mixture gradually, scraping and stirring by hand and then mixing on low until batter is smooth. Divide batter between the two pans. It will be thick.

Spread evenly in pans and bake for about 23 minutes or until a toothpick inserted in center comes out clean. Cool in pans on wire rack 10 minutes. Invert onto a cooling rack and let cool completely.

To make the frosting, beat butter in a large bowl with electric mixer on medium speed until creamy. Beat in the softened cream cheese and 1 cup of the powdered sugar until blended. Gradually add remaining powdered sugar until smooth (taste test after 2 cups, and add more as needed). Beat in vanilla.

Frost layers and stack. If you like the look of crumbs on the side of your cake, you can level off the bottom layer (cut off the dome), then crumble it up and press against the size. This is a pretty moist cake so the crumbs will be kind of moist and prone to looking tacky, but if you are good at decorating you can make it work.