Carrot Ginger Spice Cookies are fat, dense, and have a lot of flavor thanks to all the spices and toasted pecans. I think they'd be excellent with dried cranberries or raisins, but I didn't add them to this batch. The cookies don't spread much, so make sure you flatten them slightly as directed. I forgot to do this with some of mine and while they tasted good, they looked a little silly. Kim, who gave me the recipe, says these keep remarkably well and may also be frozen.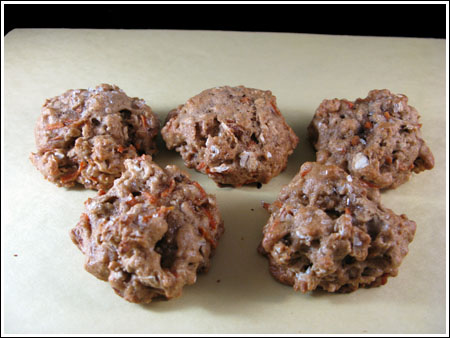 Carrot Ginger Spice Cookies
1 ¼ cups unbleached all-purpose flour
1 ¾ cups whole wheat pastry flour
1 ½ teaspoons baking soda
1 teaspoon salt
1 ½ teaspoons ground cinnamon
1 teaspoon ground ginger
½ teaspoon ground cloves
½ teaspoon ground allspice
¼ cup canola oil
¼ cup honey
2 teaspoons vanilla extract
1 ¼ cups finely grated carrot (3 medium sized carrots)
3 large egg whites
¾ cup light brown sugar (packed)
1 tablespoon granulated sugar
2 cups old fashioned oats
1 cup pecans, toasted and chopped
Extra sugar for topping cookies (optional)
Combine the flours, baking soda, salt, cinnamon, ginger, cloves,
and allspice in a medium-sized mixing bowl; stir with a whisk to
combine. Set aside.
Combine the oil, honey, vanilla, brown sugar and 1
tablespoon granulated sugar in a large-sized mixing bowl; whisk to
combine. Add the 3 egg whites; whisk to combine. Add the grated
carrot; whisk to combine.
Add the dry ingredients to the wet ingredients all at once; stir
with a wooden spoon to combine. When all of the flour-mixture is
moistened by the wet ingredients, add the oats and chopped pecans. Fold
all ingredients together with the wooden spoon until the oats and pecans
are evenly distributed throughout the dough. Cover dough with plastic
wrap and chill dough in the refrigerator for 1 hour.
Preheat oven to 375 degrees F. Line baking sheets with
aluminum foil or parchment and drop dough on
to lined baking sheets (each cookie should be 1 rounded tablespoon in
size); cookies should be spaced approximately two inches apart on the
baking sheets. Slightly flatten each cookie with fingertips moistened
with water; sprinkle approximately ⅛ teaspoon of sugar on each
cookie.
Bake cookies for 8 to 10 minutes, or until lightly browned on
the edges and bottom. Allow cookies to cool on baking sheets for three
to four minutes. Remove the foil and cookies from baking sheets and
allow the cookies to cool further on the counter top. While cookies are
still slightly warm, remove cookies from foil and place cookies in
plastic bags with zip closures or in airtight containers.
Makes 4 dozen cookies.