Oatmeal Butterscotch Pecan Cookies are a variation on Monster Cookies. Unlike Monster Cookies, these have some flour. And instead of having candy and chocolate chips they are filled with nuts and butterscotch chips.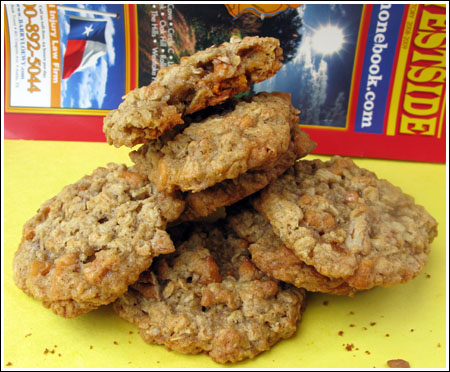 These are a medium thickness, have crispy edges with crunchy centers and loads of flavor from the butterscotch, brown sugar and cinnamon.
Oatmeal Butterscotch & Pecan Cookies
MAKES ABOUT 32 COOKIES
1 ¼ cups all-purpose flour (5.7 oz/160 grams)
1 teaspoon baking soda
½ teaspoon salt
½ teaspoon ground cinnamon
1 ½ sticks (6 oz) unsalted butter at cool room temperature
¾ cup granulated sugar (5.25 oz/147 grams)
¾ cup packed light brown sugar (6 oz/168 grams)
2 large eggs
1 teaspoon vanilla extract
3 cups old fashioned oats
1 ⅔ cups butterscotch chips
½ cup pecans, toasted and chopped
Preheat oven to 375 degrees F. Have ready two parchment lined cookie sheets.
Stir flour, baking soda, salt and cinnamon together in a medium size bowl; set aside.
Cream butter and both sugars in a mixing bowl using high speed of an electric mixer; Add eggs and beat for about 30 seconds. Scrape sides of bowl and stir in vanilla extract. By hand, stir in flour mixture. When flour is absorbed, stir in oats, butterscotch chips and pecans
Drop dough by tablespoonfuls about 2 inches apart onto prepared cookie sheets. Bake one sheet at a time on center rack for 10 minutes or until edges are golden brown.