This is an old recipe back from when I was a young mom trying to use up Girl Scout Cookies. At the time, putting them in a reduced calorie Tiramisu recipe seemed like a good idea, but I'm not so sure I'd do it now because Girl Scout Cookies are expensive. Plus there are lighter cookies, such as the traditional ladyfingers. Soft or hard should work.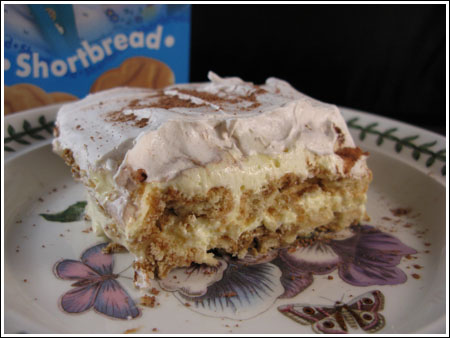 Reduced Calorie Tiramisu
I'll keep the recipe here because it's pretty good for a reduced calorie, convenience version of Tiramisu. It calls for fat free sweetened condensed milk, sugar free pudding mix and whipped topping. My notes say it also tastes like pudding mix, sweetened condensed milk and Cool Whip, so if you grew up eating eating more sophisticated desserts and things like Dirt Cake and Dream Pie didn't darken your door, well….this is not for you. My notes say that this is not as good as the old standy Eclair Cake, but maybe with a different cookie it will be.
This is one I think I'll make again with a different cookie and update the photo.
Reduced Calorie Tiramisu
½ cup cold water
3 tablespoons sugar free instant pudding mix (half of a 1.5 oz box)
½ (14-ounce) can fat-free sweetened condensed milk
4 oz of reduced fat cream cheese, softened
½ (8-ounce) tub frozen reduced-calorie whipped topping, thawed plus more
¼ cup hot water
3 tablespoons Kahlúa (coffee-flavored liqueur)
½ tablespoon instant espresso or 1 tablespoons instant coffee granules
1 package Girl Scout Cookie Shortbread or ladyfingers
1 ½ tablespoons unsweetened cocoa, divided
Have ready an 8 inch square glass dish (3 quarts)
Stir water, pudding and condensed milk together in a mixing bowl; cover with plastic wrap and chill for 30 minutes.
Remove plastic wrap, and add softened cream cheese. Beat with a mixer at medium speed until well-blended. Fold in half a tub of whipped topping.
Combine hot water, espresso powder and Kahlua. Lay 16 shortbread cookies over bottom of dish and drizzle with a few tablespoons of the Kahlua mixture** or just enough to soak the cookies. Spread one half of pudding mixture evenly over cookies; sprinkle with half the cocoa powder. Repeat, making a second layer of cookies and topping it with the pudding mixture. Cover and chill for 8 hours. Before serving or earlier, spread some more whipped topping over top and garnish with rest of the cocoa powder.
Makes 6 servings
**I didn't use all of the Kahlua coffee mixture.