I'm feeling kind of lethargic today and wasn't sure I'd even post a recipe, but these Peanut Butter Stuffed Chocolate Cookies were pretty good, so here's the recipe. It's important to let the cookies cool, otherwise the filling is kind of gooey. It tastes better set.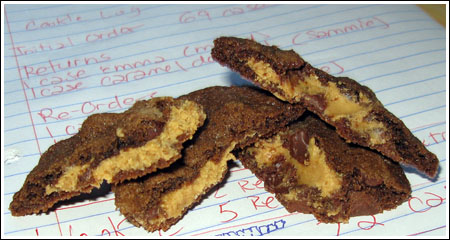 If you are tired (like I am today), you could skip the peanut butter filling and wrap this dough around Reese's cups. If you are too tired to do even that, you could just throw in some peanut butter flavored chips and not wrap the dough around anything. About the shortening -- it's necessary for crisp edges and decent thickness. I've made these cookies with all-butter and they don't turn out quite as well.
Peanut Butter Stuffed Chocolate Cookies
Filling:
½ cup creamy peanut butter
⅓ cup powdered sugar
Cookie Dough:
1 cups all purpose flour (4.5 oz)
⅓ cup unsweetened natural cocoa powder
½ teaspoon baking soda
⅜ teaspoon salt
4 tablespoons unsalted butter, room temperature
4 tablespoons shortening (48 grams)
½ cup granulated sugar
⅓ cup firmly packed light brown sugar
½ teaspoon vanilla extract
1 large egg
⅔ cup semi-sweet chocolate chips
Preheat oven to 350 degrees F. Line 2 large cookie sheets with parchment paper.
Prepare filling first. Mix together peanut butter and powdered sugar. Drop marble size balls of peanut butter mixture onto a waxed paper lined plate and set in freezer. This is to help make the peanut butter balls more manageable.
Stir flour, cocoa powder, baking soda and salt together in a mixing bowl. Set aside.
In a large mixing bowl, beat butter, shortening and both sugars together using high speed of an electric mixer. Beat until creamy, scraping sides of bowl; beat in vanilla. Add egg and beat until it is mixed in. Add flour mixture and stir with a mixing spoon until most of flour is incorporated. Add chips and continue to stir until remaining flour mixture is incorporated. If dough seems very sticky, chill it for about a half hour (it shouldn't be too sticky).
Using a rounded tablespoon, scoop up mounds of dough and wrap each mound around one of your little blobs of peanut butter mixture. Seal the peanut butter ball in the dough the best you can and place on cookie sheet spacing about 2 inches apart. Bake one sheet at a time for 12 minutes.
Let cookies cool on sheets for 3 minutes, then lift with a metal spatula and set on wire racks to cool and set.
Makes 18 cookies