I wasn't sure there would be a new cookie today. Nothing seemed interesting, plus I found some Hobnobs in the freezer and just wasn't that motivated. I guess the Hobnobs didn't cut it, because later in the day I started craving cookies again and ended up making Double Chocolate Nutella Cookies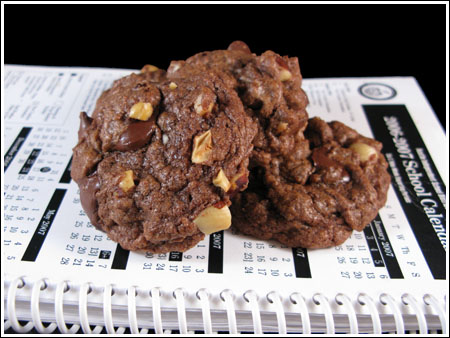 My big concern was that the Nutella wouldn't be detectable since it's baked into the dough. In my opinion, Nutella is best straight or stirred into things where it's the main chocolate. Well, forget my opinion because in this case it was very good stirred into the dough. The hazelnut flavor was still fairly subtle, but the Nutella gives the cookies a fudgy texture. Most of the hazelnut flavor actually comes from the hazelnuts.
Double Chocolate Nutella Cookies
2 cups all purpose flour (9 oz)
⅓ cup unsweetened cocoa powder
½ teaspoon baking powder
½ teaspoon salt
½ cup unsalted butter, room temperature
½ cup chocolate hazelnut spread (Nutella)
¾ cup plus 2 tablespoons granulated sugar
½ cup brown sugar
2 large eggs
2 teaspoons vanilla
1 cup bittersweet chocolate chips.
⅔ cup chopped, toasted hazelnuts
Preheat oven to 350 degrees. Line two cookie sheets with parchment paper.
Mix together flour, cocoa powder, baking powder and salt. Set aside.
Cream the butter with the Nutella and both sugars. Beat in the eggs and vanilla. Add the flour mixture and stir until it is incorporated, then stir the chocolate chips and hazelnuts. Drop by tablespoons onto cookie sheets and bake for 10-12 minutes. Cool on cookie sheet for a few minutes then transfer to a wire rack to cool.
Adapted from "Wallflower" at Better Recipes