Bran Cake Bread is adapted from one of my favorite cookbooks, Jane Brody's Good Food Book. I've been cooking out of that book since my teens when I found it at the library. Somewhere along the way I acquired a copy of my own…two in fact. I gave one copy to a friend and am now back to one which I pull off the shelf when I need to hear a voice of reason from the nutrition world.
Along with a lot of information on nutrition and various types of food, Jane Brody has good recipes. Over the years I've focused mostly on her savory dishes, but this week I decided to try some breads and sweets.
To start off, here's an adapted version of Jane's "Bran Cake Bread" which I plan on serving Fuzz for breakfast. I think she'll like it, but it's definitely not as rich as other quick breads and has *just* enough sweetness. So even though Jane calls it "cake" bread, it's not nearly as cake-like as a lot of other quick breads. This seems more nourishing. Also, if you like dried fruit I recommend adding it because it will make the bread seem sweeter. I left out the dried fruit because Fuzz doesn't care for it. Luckily, she loves walnuts. You can toast them quickly in the microwave for about two minutes before chopping.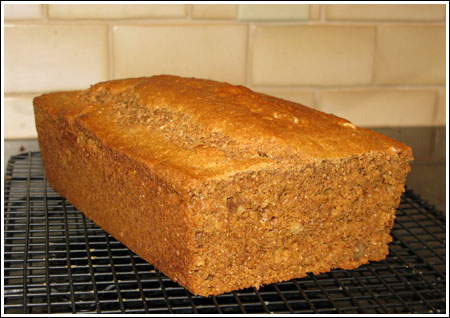 Bran Cake Bread
1 cup unprocessed wheat bran (not the cereal type) (2 ¼ oz)
1 1/2 cups reduced fat milk
1/3 cup mild molasses
2 cups white whole wheat flour (9 oz) – Eagle Mills or KA
2 generous tablespoons turbinado or granulated sugar
1 tablespoon baking powder
1/2 teaspoon baking soda
1/4 teaspoon salt
1 teaspoon cinnamon
1/3 cup dried cranberries or raisins
1/3 cup coarsely chopped walnuts, toasted*
1 large egg, lightly beaten
1/2 teaspoon vanilla
3 generous tablespoons vegetable oil
Preheat oven to 350 degrees F. Spray a 9×5 inch metal loaf pan with flour-added cooking spray or grease and flour.
Combine bran, milk and molasses in a medium bowl and let sit for about 10 minutes to soften bran.
Mix the flour, sugar, baking powder, baking soda, salt and cinnamon together in a large mixing bowl. Stir in the toasted nuts and dried fruit.
Add the egg, vanilla and oil to the bran mixture. Stir well, then dump the bran mixture into the flour mixture and stir gently to combine. Pour into pan and bake on center rack for about 50 minutes.