Bran Cake Bread is adapted from one of my favorite cookbooks, Jane Brody's Good Food Book. I've been cooking from this book since my teens, when there were not quite as many health oriented cookbooks. At the time, this book was a lifesaver because the recipes were healthy but practical. That is, I didn't quite need a Pritikin book, and I didn't have the cooking skills or access to the type of recipes in books like Laurel's Kitchen. So Jane Brody books were the best and her recipes are timeless (though the subtitle of the book is Living the High Carbohydrate Way). It's funny how things change.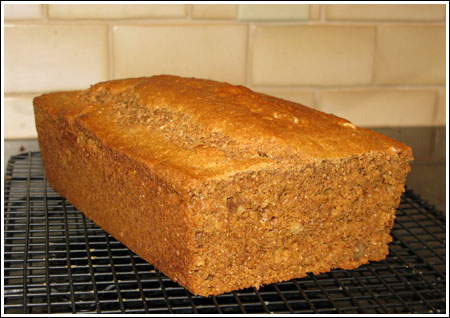 This is a photo of the Bran Cake Bread I made for Fuzz back when she was little. My notes say it has just enough sweetness and is not nearly as cake-like as I'd assumed from the description. I left out the dried fruit at the time because Fuzz didn't like it, but I think I'll make it again and throw in some golden raisins.
I'll update this one soon with a new photo. I'm also thinking it might be fun to make it as two smaller loaves (3 x 5.75 inches) which is a more practical size for us these days.
Bran Cake Bread
1 cup unprocessed wheat bran (not the cereal type) (2 ¼ oz)
1 ½ cups reduced fat milk
⅓ cup mild molasses
2 cups white whole wheat flour (9 oz) – Eagle Mills or KA
2 generous tablespoons turbinado or granulated sugar
1 tablespoon baking powder
½ teaspoon baking soda
¼ teaspoon salt
1 teaspoon cinnamon
⅓ cup dried cranberries or raisins
⅓ cup coarsely chopped walnuts, toasted*
1 large egg, lightly beaten
½ teaspoon vanilla
3 generous tablespoons vegetable oil
Preheat oven to 350 degrees F. Spray a 9x5 inch metal loaf pan with flour-added cooking spray or grease and flour.
Combine bran, milk and molasses in a medium bowl and let sit for about 10 minutes to soften bran.
Mix the flour, sugar, baking powder, baking soda, salt and cinnamon together in a large mixing bowl. Stir in the toasted nuts and dried fruit.
Add the egg, vanilla and oil to the bran mixture. Stir well, then dump the bran mixture into the flour mixture and stir gently to combine. Pour into pan and bake on center rack for about 50 minutes.