These are interesting cookies. They're called One Cup Cookies because they call for 1 cup of butter, 1 cup sugar, 1 cup brown sugar, 1 cup peanut butter, 1 cup bran and more! I'd put them in the category of Everything Cookies or Kitchen Sink Cookies given how many ingredients they have.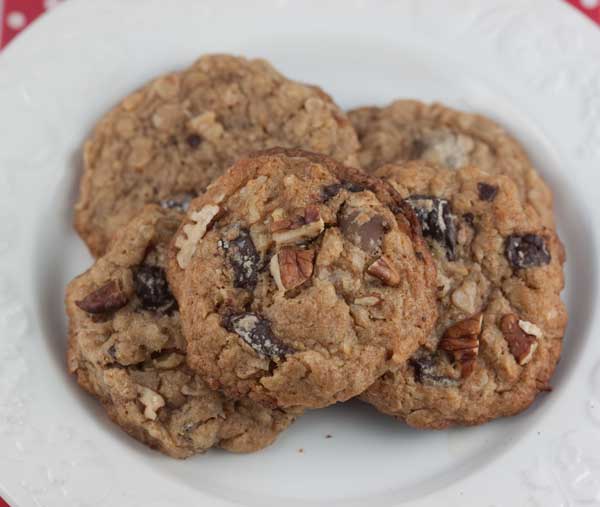 This recipe calls for 3 large eggs, which makes it easy to scale down to ⅓ of itself. I admit, I rarely make the full recipe and usually scale it down to ⅓.
One Cup Cookies Texture and Flavor
They mostly taste like oatmeal peanut butter cookies with a little extra chewiness from the coconut and flavor from the nuts. There's a lot going on in each cookie! I make them fairly large, but they're also great when made small.
Bran vs. Bran Cereal
The original One Cup Cookies recipe calls for bran, meaning wheat bran. If you want to substitute a cup of Smart Bran or any other bran cereal, you can give it a try. I like using the wheat bran because it adds more fiber.
Recipe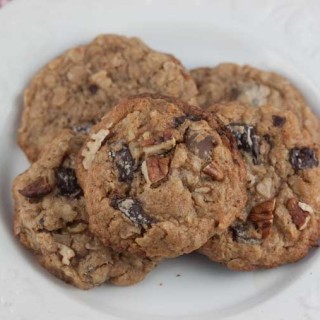 One Cup Cookies
One Cup Cookies call for 1 cup of most ingredients. This version includes wheat bran, which makes them a little bulkier and more filling.
Ingredients 
1

cup

salted butter (add 1 teaspoon salt if using unsalted)

(230 grams)

1

cup

light brown sugar

(200 grams)

1

cup

granulated sugar

(200 grams)

1

teaspoon

vanilla extract

3

large eggs

1

cup

peanut butter

(250 grams)

1

teaspoon

baking soda

1

cup

all-purpose flour

(130 grams)

1

cup

oats

(80 grams)

1

cup

chopped and toasted walnuts and/or pecans

(90 grams)

1

cup

bran (actual wheat bran, not cereal)

(50 grams)

1

cup

shredded or flaked coconut (sweetened)

(120 grams)

1

cup

dark chocolate chunks or dark chocolate chips

Sea Salt

optional
Instructions 
Preheat oven to 350 degrees F.

In a large mixing bowl, using an electric mixer, beat the butter and both sugars until creamy. Add vanilla and beat until blended,

Add eggs one by one and beat until light and fluffy. Beat in peanut butter, then add baking soda and beat until thoroughly blended. With mixer on the lowest speed or by hand, add the flour and stir until blended. Stir in the oats, nuts, bran, coconut and chocolate.

Scoop up dough by slightly rounded tablespoons and shape into balls. If desired, you may chill the dough first or you may shape the dough into balls and chill the balls before baking.

Arrange 2 ½ inches apart on a foil lined baking sheet and bake for 10-12 minutes.
Notes
Chilling the dough will improve the shape of the cookie somewhat, but it's not necessary.