Nutella Filled Double Chocolate Cookies are actually a variation on Lava Cookies. I came up with these after a trip to Italy, from which I'd brought home some extra Nutella. Just for experiment's sake (and since I had some little packets of Nutella leftover from a trip to Italy), I stuffed a few balls of chocolate cookie dough (a recipe for lava cookies) with Nutella to see what would happen. Perfect! It definitely improved an already good thing.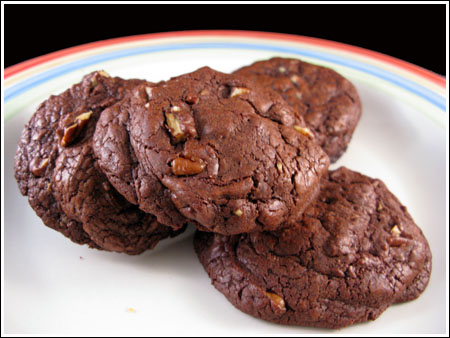 To make Nutella Filled Double Chocolate Cookies, shape chilled dough into balls, make a hole in the ball with your finger, spoon a teaspoon of Nutella into the hole, then seal it with more chocolate dough. Bake as directed.
Nutella Filled Double Chocolate Cookies
¾ cup (75 grams) pecans (or walnuts)
4 tablespoons (56 grams) unsalted butter, divided use
1 cup (170 grams) semi-sweet chocolate chips
1 large egg
⅓ cup (65 grams) granulated sugar
½ teaspoon (2 ml) salt
1 teaspoon (5 ml) vanilla extract
½ cup (63 grams) lightly spooned and leveled bleached all-purpose flour
¼ teaspoon (1 ml) baking powder
Nutella or your favorite chocolate hazelnut flavored spread
Preheat oven to 350 degrees F. Line a rimmed cookie sheet with foil or parchment and spread nuts over cookie sheet. Roast nuts for 8 to 10 minutes, then toss with 1 tablespoon of the butter. Let nuts cool, then coarsely chop and set aside.
Melt the remaining 3 tablespoons of butter in a small saucepan set over medium heat. Reduce heat to low and stir in chocolate chips. Remove from heat and stir until chips melt. If the chips don't melt completely, return to low heat and stir until they are melted. Set aside.
Beat the egg, sugar, salt and vanilla in a medium bowl for 2 minutes using high speed of an electric hand-held mixer. Turn the mixer to low and add the melted chocolate/butter mixture.
Thoroughly stir together the flour and baking powder, then stir flour mixture into chocolate mixture. Stir in the roasted nuts. Cover bowl with plastic wrap and chill for about 30 minutes.
Preheat oven to 375 degrees F. Line a cookie sheet with parchment paper. Scoop up mounds of dough and shape into balls a little larger than a golf ball. At this point, you may stuff them with Nutella if desired.
Place dough about 3 inches apart on lined baking sheet. Bake cookies one sheet at a time for exactly 12 minutes. Cool 3 to 5 minute.
Makes 8 large cookies