This is adapted from yesterday's recipe.
I miss Italy.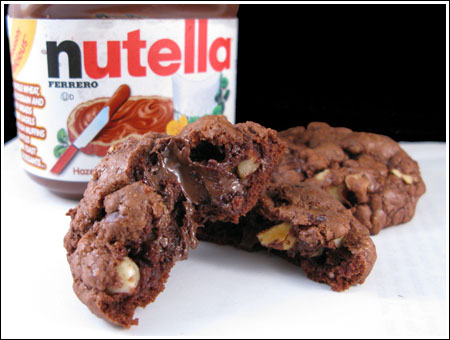 Nutella Lava Cookies
2 oz (56 grams) chopped hazelnuts plus about 1 tablespoon unsalted butter**
3 tablespoons (56 grams) unsalted butter, divided use
1 cup (170 grams) semi-sweet chocolate chips (Guittard)
1 large egg
⅓ cup (65 grams) granulated sugar
½ scant teaspoon (a little less than 2 ml) salt
1 teaspoon (5 ml) vanilla extract
½ cup (63 grams) lightly spooned and leveled flour
¼ teaspoon (1 ml) baking powder
8 teaspoons Nutella
Melt butter in a large skillet set over medium heat. Add chopped hazelnuts and sauté, stirring often, for 4-5 minutes or until aromatic. Remove nuts from skillet and lay on a piece of foil to cool and crisp.
Melt 3 tablespoons of butter in a small saucepan set over medium heat. Reduce heat to low and stir in chocolate chips. Stir until melted; remove from heat and let cool slightly.
Beat the egg, sugar, salt and vanilla in a medium bowl for about 2 minutes using high speed of an electric hand-held mixer. Beat in the melted chocolate mixture.
Thoroughly stir together the flour and baking powder, then stir flour mixture into chocolate mixture and nuts. Cover bowl with plastic wrap and chill for an hour or more.
Preheat oven to 375 degrees F. Line a cookie sheet with parchment paper. Working one at a time, scoop up generous heaping tablespoons of dough and shape into a mounds a little larger than a golf ball. Press a hole into the mound and stuff it with a teaspoon of chilled Nutella. Seal the hole with some more dough.
Place dough balls about 3 inches apart on lined baking sheet. Bake cookies one sheet at a time for exactly 12 minutes. Cool 3 to 5 minutes.
Makes 8 large cookies
I used a 2 oz package of Fisher "Chef Ready" chopped hazelnuts.