Sorry I keep posting double chocolate cookie recipes, but I like trying different versions of the same type cookie. As for this one, I can't say it's better than all the others but the cookies are really good and have an interesting texture which reminds me of baked fudge.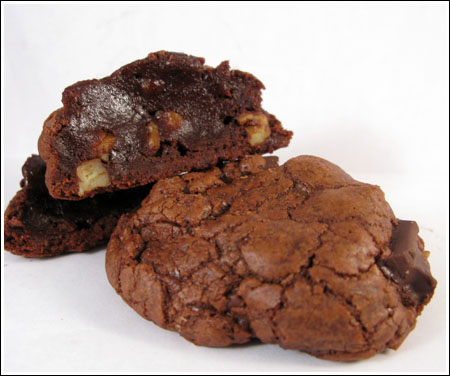 I made a half batch yesterday and chilled the dough overnight. When I took it out of the refrigerator it was extremely thick and dense, but it was workable so I scooped up dough, shaped it into balls a little larger than golf balls and let the dough come to room temperature. After baking for 11 minutes, the cookies had a good shell, but were dense and fudgy on the inside. They were better after they'd cooled.
For fun, I broke up a few graham crackers and wrapped some dough around graham crackers and marshmallows. That version was even better because it added new texture to the cookie. Unfortunately, I ate it and do not have a photo of the marshmallow variation. I'll make another one for you.
The good thing about this dough is it's versatile and I think you could change it up quite a bit by adding different spices, liqueurs (cassis might be good) or altering what type chocolate chips chunks you use or which brands/flavors chocolate. Just keep in mind that the center is like baked fudge.
Recipe
Oh No, Not Another Double Chocolate Cookie!
A rich, fudge-like double chocolate cookie.
Ingredients 
⅔

cup

90 grams all purpose flour (3 oz)

1

tablespoon

5 grams unsweetened cocoa powder

¼

teaspoon

1 ml baking powder

½

teaspoon

2.5 ml salt

5 ½

tablespoons

80 grams unsalted butter (⅓ cup)

7

ounces

200 grams extra bittersweet (70%) chocolate, chopped

½

teaspoon

instant espresso powder

2

large eggs

⅔

cup

130 grams granulated sugar

¼

cup

50 grams packed brown sugar

½

teaspoon

2.5 ml vanilla

½

cup

40 grams toasted and chopped walnuts, pecans or hazelnuts

⅔

extra dark

bittersweet or semi-sweet chocolate chips
Instructions 
Stir flour, cocoa powder, baking powder and salt together in a small bowl; set aside.

Melt the butter in a small saucepan set over medium heat. Reduce heat to low, add the chocolate, stir until melted and remove from heat. Stir in the instant espresso powder. This step may also be done in a microwave-safe bowl. Just melt the butter, add the chocolate to the hot butter, and stir until the chocolate is melted before stirring in the espresso powder. Let cool slightly.

Beat the eggs, sugar and brown sugar for 2 minutes using high speed of an electric handheld mixer. Beat in the vanilla, followed by the melted chocolate and beat for another minute. Add the flour and stir by hand until it is mixed in. Add nuts. Make sure batter is cool, then add the remaining chocolate chips.

Chill for about 2 hours or batter is thick enough to scoop. Scoop up heaping tablespoons of dough (you should get about 16) and place them on a foil lined baking sheet or a couple of foil lined plates. Cover and chill until ready to use or bake right away.

Preheat oven at 350°F. Line 2 cookie sheets with parchment paper.

Arrange the dough mounds 3 inches apart on baking sheets and bake for 11 to 14 minutes or until cookies appear set. Let cool slightly and remove from cookie sheet. Let cool completely on a wire rack.
Notes
Cook time includes chill time.